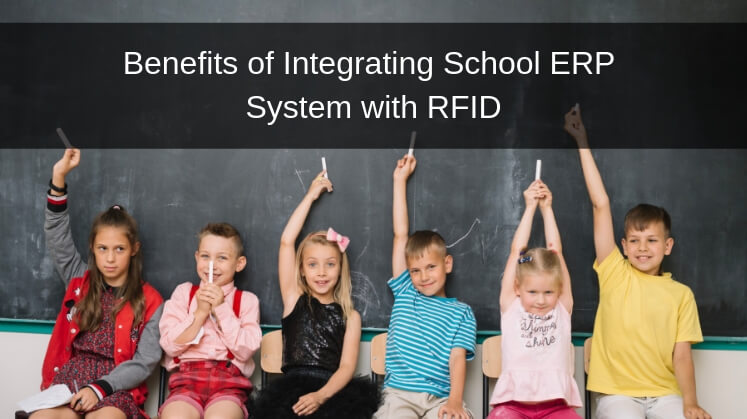 Radio Frequency Identification (RFID), as the name suggests, is a technology which can detect objects such as books, ID cards, etc. attached to an RFID chip by deploying radio waves. The RFID readers are highly efficient and can read several cards, books or objects at once. A proficient school management system provides enough flexibility to be integrated with RFID devices and readers, the benefits of which are numerous.
Right from library management and attendance management to payroll management, the RFID can be used for various purposes with an objective to automate processes and eliminate unnecessary manual practices. Below are listed the top 5 ways a school can deploy RFID technology to their advantage.
Attendance Management System
Attendance management can be completely automated with the help of RFID cards and detectors. An RFID card is given to each student of a school and RFID detectors are placed on gates. If attendance for each subject is to be taken then RFID detectors must be placed in each classroom. Alternatively, if one time attendance is to be taken daily, then RFID detectors must be placed at the main entrance or various suitable locations.
Whenever a student or several students pass through the RFID detector, the detector automatically reads the unique id of each student and this information is transferred to the school ERP. The RFID based attendance management system reduces a lot of teachers' workload and hassles and completely eliminates manual attendance.
Enhanced Student Security
The school management software can be set to trigger automated SMS/Email or app notifications to parents regarding their ward's attendance. Once the attendance data is received by the ERP, parents can be notified about the whereabouts of their child instantly. This ensures student security and allows the worried parents to breathe a sigh of relief and the educators to be relieved of one of their key responsibilities.
Integration With Classrooms And Class Schedules
The RFID can be integrated with classrooms and/or time-tables/class schedules. The data pulled into the ERP from the RFID readers help the teaches and management to manage various aspects of the institutional life cycles. The management can keep track of each class individually. This includes the number of students attending the particular class, faculty-wise, student-wise, class-wise reports, etc.
Library Automation
The uses and benefits of RFID in library are countless. Not only does the RFID based library management system speeds up the library activities immensely but also reduces the workload of librarians considerably. An RFID containing a unique number is attached to each book in the library. A mobile/handheld RFID reader is swept around bookshelves and the reader detects several books at once.
This technology can be used to carry out various library activities such as accessioning, cataloguing, stock verification, shelf management, etc. Additionally, the RFID technology can be deployed for theft detection. And RFID reader is placed at the exit point of the lbarry and if any student or person carrying an unissued book passes through it, then alarms are triggered automatically. This way RFID can be used in various ways to manage and maintain a library.
Payroll Management System
The RFID can be used to mark faculty attendance and automate the payroll processing. The RFID detectors detect the faculty RFID card and mark faculty attendance which is then transferred to the integrated payroll management system. Using this data the payroll management system calculates the LWP of each teacher and staff, which is then used to generate salary.
Implementing RFID based faculty attendance, you not only save a lot of time but also reduce the workload on the administrative department.
Moreover, MasterSoft education ERP is integrated with dashboards to provide the management and concerned authorities with crucial insights related to library, student attendance, payroll processing, etc. Additionally, several kinds of reports along with MIS reports can be generated with the ERP in merely a click.
To know more about RFID integration or benefits, contact us.