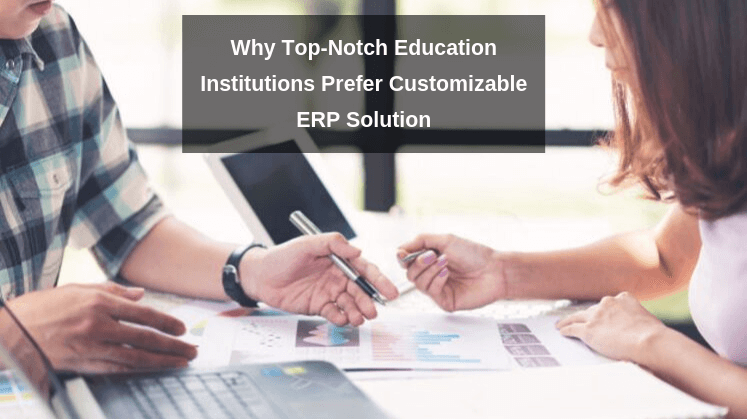 There's a plethora of Education ERP solutions available in the market, and strangely, each of the ERP vendors claims their campus automation system to be the best. In such a scenario, it might get difficult for an institution to figure out which product would be apt for meeting their institutional needs. Being an educator, if you are facing a similar situation, you must talk to the staff of various departments and identify the exact challenges that need to be addressed. Once you understand the inter-departmental requirements, you can ask the ERP vendor to design and implement custom ERP software for enhancing the productivity of your institution. Owing to the potential an ERP solution holds in transforming the institution, every top-notch institution prefers customizable ERP solution.
Let's see the compelling reasons why customizable education ERP solutions have become the first choice of leading educators in the industry....
Personalized Package for a Seamless Experience
ERP customization reduces the burden of unnecessary features. For instance, if an educational institute already has a separate accounting software and doesn't require an accounting module, they may request the ERP vendor not to include the feature in their package. Such a practice would make the software ready-to-use and save enormous amounts of money that an educator might have to pay for buying software with all the default features.
Improves Workflow and Efficiency
In addition to teaching, faculty members have to deal with heaps of paperwork. A tailored ERP solution enables the teachers, staff, and other faculty members to work with ease. It streamlines the institutional processes eradicating the need for repetitive administrative work and human efforts. The teachers can utilize the time saved for developing effective teaching plans & strategies. Furthermore, educators can integrate a mobile app with ERP to leverage its benefits for improving parental engagement by bridging the communication gap between them.
High-end Student Data Security
With cloud technology, educators can be assured of student data security. Cloud-based Education ERP System collects and stores the student-related information and data at a centralized location. The authorities get the liberty to provide role-based access to the users for accessing the data eliminating the risk of data misuse or data theft. When we speak about the transmission of data, cloud technology harnesses layered encryption ensuring 100% data security.
Huge Cost-Savings
Cost-effectiveness is a prime factor that drives the choice of educators while selecting ERP solutions. The customized ERP software minimizes the operational cost by maintaining greater data accuracy.
With an inbuilt analytics dashboard, the faculty members can generate highly precise reports of various departments in real-time within a few minutes that can help them make smart and quick decisions.
By serving more than 2200 prestigious clients in the education industry, MasterSoft ERP education management software has become a reliable name for ERP solutions. It is user-friendly, economical, and highly customizable solutions that can minimize the challenges and fulfill every basic requirement of educational campuses. Educators looking for a cost-effective and highly effective education ERP solution can get in touch with us and schedule a FREE demo!!