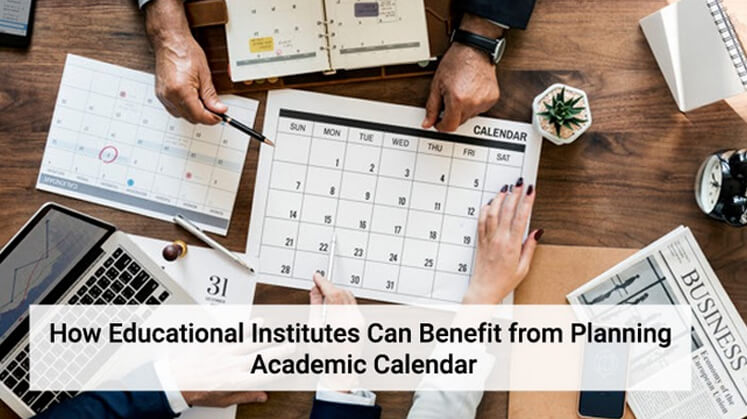 "Plan your work and work your plan": Napoleon Hill
Once, I read this quote, and it stayed with me since then!
Being a teacher by profession, planning is something which I can't ignore at any cost. From preparing my daily "To-Do" list, a vast syllabus that I need to teach, to scheduling exams from time-to-time, I plan everything in advance to make my journey easier.
However, just brainstorming can't help in preparing foolproof academic calendars. You can't expect to create the "perfectly planned" version of routine tasks & special events for the entire year at the first go.
Planning takes time. It needs patience. Most importantly- it requires multiple resources.
And still, nothing is guaranteed. Manual errors are bound to happen. To be able to reap the rewards, you need school ERP software with an academic calendar management system!
Here's how a school management system can help you boost productivity by automating the academic calendar generation process…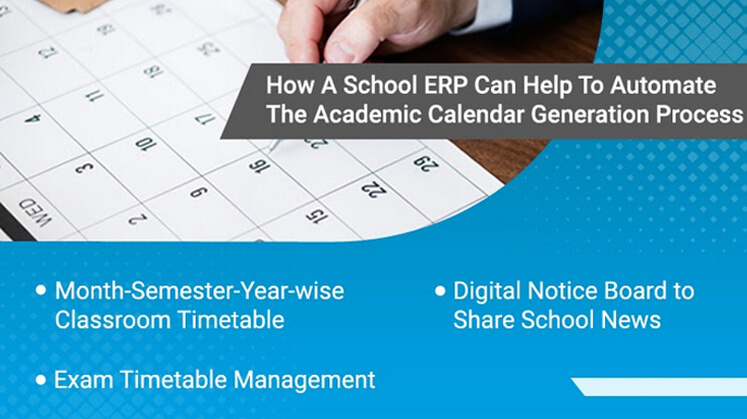 1. Month-Semester-Year-wise Classroom Timetable
Planning an academic calendar schedule is surely the best step towards institutional progress. A well-planned calendar amplifies the institution's productivity systematically. This is why every top-class educator makes sure to embrace this practice. However, dotting month-semester-year-wise is one of the trickiest tasks for faculty. It can't be achieved by putting pen-on-paper!
As a teacher, you will need to watch out for the following obstructions:
Lecture timing conflicts between staff
Classroom availability day/week/month-wise
Idle lecture problem in the absence of faculty
Lecture cancellation in case of emergency
Attendance slots & break-time slots
Timetable software can help you overcome these pain points! It gives greater flexibility by facilitating the option of editing whenever things go out of plan & of course by avoiding any kind of clashes at every cost!
2. Exam Timetable Management
The underlying philosophy of using an avant-garde tool like timetable ERP software has to be adding massive value to the work processes. I've seen a tremendously positive impact of this edTech approach in the school where I am presently working.
Since 2018, our institution has invested in adapting an effective timetable management system that not just helps in planning the session but also puts out in-depth, accurate analysis & insights on what's going on in an easy-to-understand format. It eases exam management by providing a smart exam schedule.
Initially, we faced a struggle in training as most of us were not tech-savvy.
But, over time, work hassles vanished – in a month, we created upcoming exam schedules along with managing the classroom & invigilator allotment activity.
3. Digital Notice Board to Share School News
"Let's go to the notice board & see what's there for us",I am sure we all were a part of such conversations while growing up.
Whenever there used to be an exam result announcement or some other news, the teachers used to prepare a circular & pin it over the notice board.
However, today with the digitization of classroom & e-learning in trend, these practices can be replaced with digital notice boards. A school management system equipped with online notice board provision where the students just need to login their portal to see the school updates is crucial.
Our institution has been following this trend since the outbreak of COVID-19 has created a distance barrier. We plan out things on the timetable academic calendar & put it out on the student portal every now & then!
Even, it has a special reminder feature that reminds the upcoming events to us, the faculty!
Key Takeaways
More than just a productivity booster, educational ERP solutions are the major contributing factors in acquiring the best ROI. You can read more about the timetable management system in one of my previous blogs. If you want to adopt timetable management software, you can get in touch with the MasterSoft Team, the ERP vendor trusted by us & leading educational institutions across the globe!
Before that, please note down the requirements of your institution, so that while collaborating, they'll clearly hit on the major areas of concerns & come up with customized academic template & functionalities for your school.