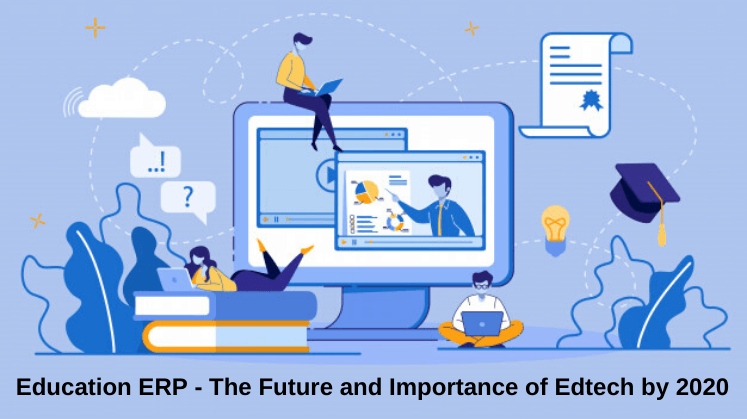 So, you are also wondering why the term 'edTech' has suddenly become a buzzword amongst educators these days?
Thinking what is the importance of ERP in education?
Need to find out what the future holds for edTech in the classroom?
Well, let's begin by understanding the concept of education ERP software.
What is Education ERP?
As you know, more than just taking a lecture, teachers have to play a multidimensional role. Right from planning exams, preparing timetables, taking attendance, assigning homework to students, and additional administrative tasks, they have to go through a lot of hassles daily. Education ERP is basically a modern-day software that follows a systematic approach to streamline the work processes and help teachers focus more on teaching. The ultimate aim is to boost students' performance. Based on the requirements of the institution and students, educators can implement a customized edTech tool and sort out everyday hassles & bring about transformative experience in learning.
What is the Importance of ERP in Education?
As we've already discussed the basic concept of edTech, let us consider understanding its importance in education. We will discuss some of the major reasons why educators must introduce ed-tech in the classroom. So, let's embark upon the journey of exploring importance of edTEch...
Today's Tech-Savvy Students Demand it!

Just as the previous generation of students was more into textbooks with vibrant images, today's generation loves technology & demands it in the classroom. Right from ordering a pizza to playing online games, children just can't do without smartphones and tablets! What we want to convey is that technology has become an integral part of modern students' lives. Being an educator, you can implement edTech with mobile apps and student information management system to reap its benefits by improving the teaching-learning process.

A Must-Have for Modern-day Teachers too!

If you look at teachers belonging to the latest generation, you'll find that they are equally interested in harnessing technology. Most of them being tech-friendly, they know what it can bring to the table! They are aware of the ways in which technology can boost their teaching careers as well as help students better. Since edTech has proven to be a boon for institutions and is important to cope with factors lowering the overall productivity & performance, teachers must introduce it in the classroom & reap its long-term benefits.

Young Minds Need to Learn its Application for Achieving Success

From riding a bike to the educational institution to completing assignments by searching for things on the internet, every student knows how to use technology. In fact, technology can help them upgrade their skills and earn their bread & butter in the future. However, using technology merely for doing homework & assignments without using the brain can lead to opposite results! Therefore, teachers must show them how to use technology responsibly & lay a strong foundation of success in their growing years. This way ed-tech is can help in getting more success in education

Enhancement of Learning Experience

Student performance is the main parameter that decides what they have learned. Anyone can score good grades by mugging up theoretical aspects of a particular subject. However, grades don't define what the students have actually learned. Learning is judged on what skills they have developed employing education. Education technology plays a key role in developing the thought process of students. When students are exposed to an environment that allows them to learn by innovating & doing practical, their learning power will improve tremendously.

In a nutshell, technology is the driving force that prepares students to be the best version of themselves & at the same time helps educators. Therefore, implementing edTech such as a student information system is a win-win deal for all stakeholders – teachers, parents, educators, and children! It surely holds a bright future for educational institutions, and based on the facts & recent reports on edTech, it will be on the boom by 2022! Therefore, educators looking for an avant-garde education ERP system for their educational institutions must get in touch with the best ERP solution provider at the earliest.

Read more - Benefits Of Investing In Education Technology For Automation Of Institutes