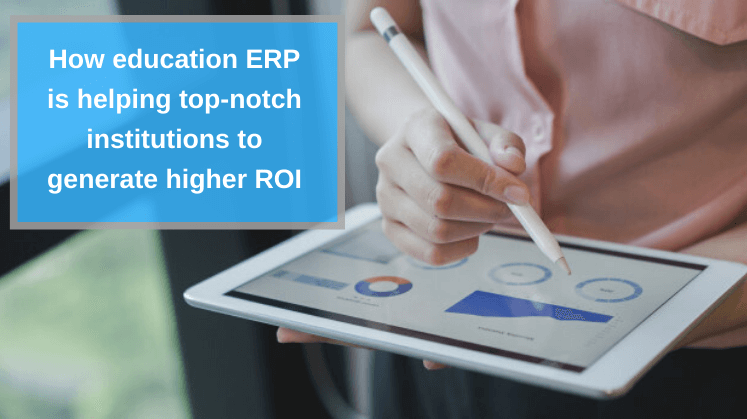 "Technology is merely an add-on for educational institutes"
Being an educator, do you agree with this statement?
If your answer is yes, then you need to rethink it!
In this tech-driven era, where the majority of the work can be automated, simplified, and performed with greater efficiency with the help of technology, it would be irrational to overlook its importance in the education sector. To be honest, edTech is way more than just an add-on tool; it can help boost the growth of institutions and generate higher ROI. Understanding its benefits, most of the top-notch educational institutions have already started to implement a customized campus management system.
Here's how Education ERP is helping educational institutions to generate higher ROI…
Campus Automation for Faster Operations
The role of teachers & faculty members is not limited to teaching; they have to deal with a lot of administrative work on a regular basis. The workload may lead to less productivity and ultimately affect institutional effectiveness. Education ERP integrated with smart features such as safe online payment, automated library management system, mobile app, and much more can help higher education institutions to automate their entire processes making the operations faster by streamlining the workflow and help faculty members to execute their daily tasks efficiently.
Minimization of Data Errors for Best Utilization of Resources
Student data management plays a pivotal role in educational institutions. Every single activity of institutions is directly or indirectly dependent on student data. Right from enrollment to the day students leave the institution, educators need to maintain a proper record of their personal details as well as academic performance. They can use the data for planning strategies for helping students improve their performance. The data can be further utilized for arranging alumni programs, which are becoming popular these days owing to the career opportunities they hold. Similarly, wrong data or data with less accuracy may result in poor management of in-house activities.
ERP for higher education seamlessly sorts out this issue by ensuring proper data entry. It eradicates the need to fill the data repeatedly and facilitates the provision to update the existing data with mere clicks. Faculty can utilize the time for executing productive tasks. Thus, an education ERP system saves countless hours of staff members ensuring the best utilization of resources.
Highly Accurate Dashboard Reports Fostering Better Decision-making
No matter what tool educators may implement, everything at the end depends on their decision-making capabilities. With an Education ERP Software integrated with an analytics dashboard, it becomes easier for educators to make smart decisions! The analytics dashboard stores, monitors, and analyzes the institutional data and generates highly accurate reports reflecting the performance of students, staff, their attendance history, and complete in-house activities. Educators can scrutinize these reports, figure out the major challenges creating hurdles in the path of accomplishing their goals, and then, take proper actions for ensuring institutional success.
To Sum Up
Education ERP Software inbuilt with a plethora of features helps in the smooth functioning of higher education institutions. It simplifies the everyday tasks of teachers enabling them to pay focus to students and helps educators make wise decisions, generate higher ROI, and retain their reputation in the long run. The key to achieving the aim is to choose an experienced Education ERP provider.
Get in touch with our team to explore how your institute can join the bandwagon of success by generating higher ROI with Education ERP!