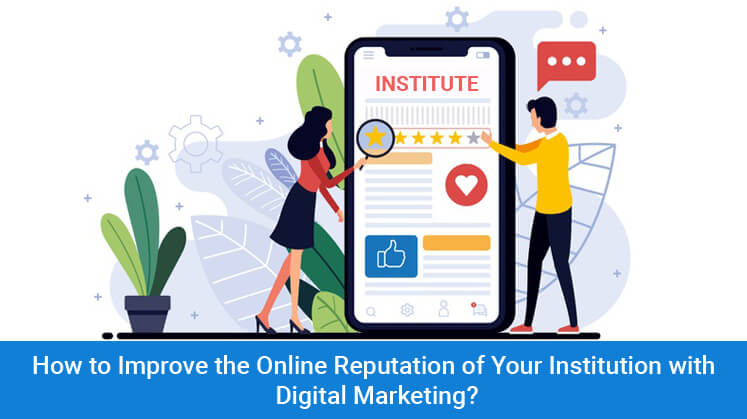 "Your brand isn't what you say it is. It is what Google says it is". (Chris Andersen, Journalist, Writer, Former Editor of "Wired").
Google, the ultimate critic! How you wish your reputation did not depend on Google! Well, here's a little secret. You can control Google Search Engine results to a VERY large extent. And we can show you how. Or better still, we can do it for you!
Here is a scenario many institutions may be familiar with. Your institution may have established a fine reputation for itself over the years. You may have acquired all requisite accreditations, you may have won prestigious awards, your students may have won international scholarships and made a name for themselves in the life sciences or the humanities…but then, something suddenly goes awry! An ugly incident, a negative review, or a competitor playing mischief with your content – and suddenly the internet is abuzz with painfully jaundiced or disapproving stories of your institution. Online bad press has a way of reaching the first page and staying there a while, till someone who knows something about online reputation management helps you turn the tables on the negative reviewer or mischievous story-teller, clean up your record and get the positive results to dominate the negative. This someone could be a good digital marketer. A truly competent digital marketer will also monitor search results constantly. If he finds a negative reference to your institution's name, he will take steps to improve or restore your online reputation ASAP. After all, a good digital marketing strategy for schools and colleges is all about good online reputation management.
So here's how our team at MasterSoft, which handles digital marketing for schools, would go about improving the online reputation of your institution with a cleverly crafted strategy:
Monitor your online presence
To understand where your institution stands in terms of online presence and reputation, you need to monitor sites (especially review sites), forums, blogs, conversations, social media pages or quora to get a clear picture of what your organization looks like in Cyberspace. An educational institution is likely to be mentioned on Glassdoor or Quora. A passing mention of your school or college may appear in a social media conversation.
Free monitoring tools are available online, if you wish to keep track of every mention of your institution. Google Alerts or Free Review Monitoring can send you a notification the moment your institution's name appears on any of the major review sites.
Monitoring your online presence is the first step towards creating a good online presence and improving your online reputation. A thorough 24/7 monitoring would allow you to zero in on any negative reviews as soon as they appear. The reputation manager would then deploy a smart review response strategy so as to nip in the bud any negative issues that could snowball into major controversies and do lasting damage to your institution's fair name.
MasterSoft's digital marketers are also monitoring your online reputation 24/7. So you can rest easy and focus on more pressing "offline" matters!
Turn the tables on the negative reviewers
It will not do to allow critics and reviewers to make or mar your online reputation. In pre-internet days, one disgruntled parent or student could spread the word amongst five others, who could further forward the negative feedback to their network of friends and relatives. It hurt then! It is likely to hurt you much more now, since Google results reflect what is most discussed, most controversial, most forwarded, most shared online.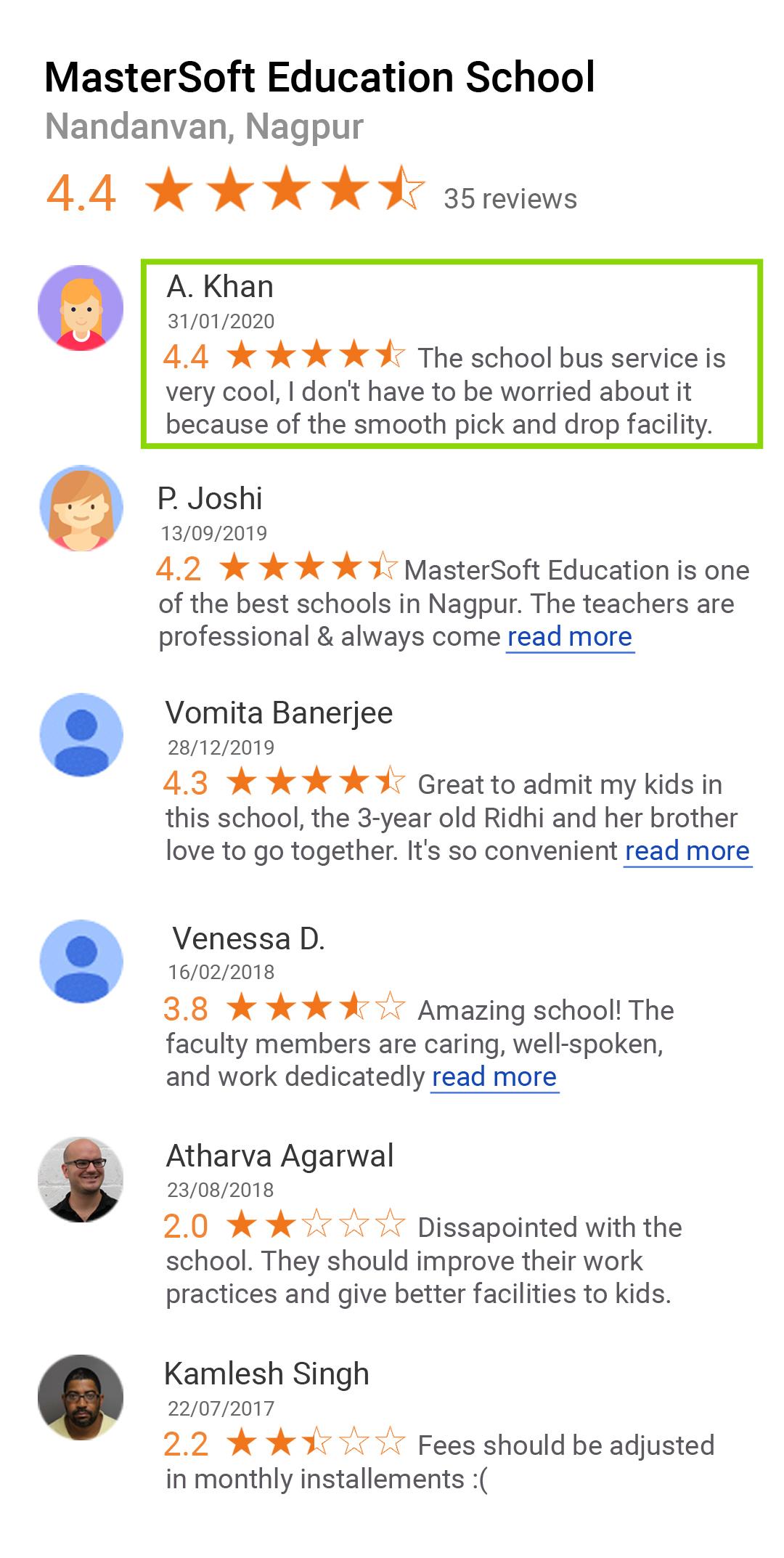 If you were to see your institution as a "brand" and every review as feedback on your "brand", you would understand that, before selecting your "brand" over another one, most prospective students or parents would Google search reviews of your institution. Beware! The online reviewer has become the go-to critic or advisor ever since Covid-19 has hit our planet!
While 9 out of 10 reviews may be positive or neutral, the reader's eye has a tendency to seek out and (hypothetically) circle that one negative review!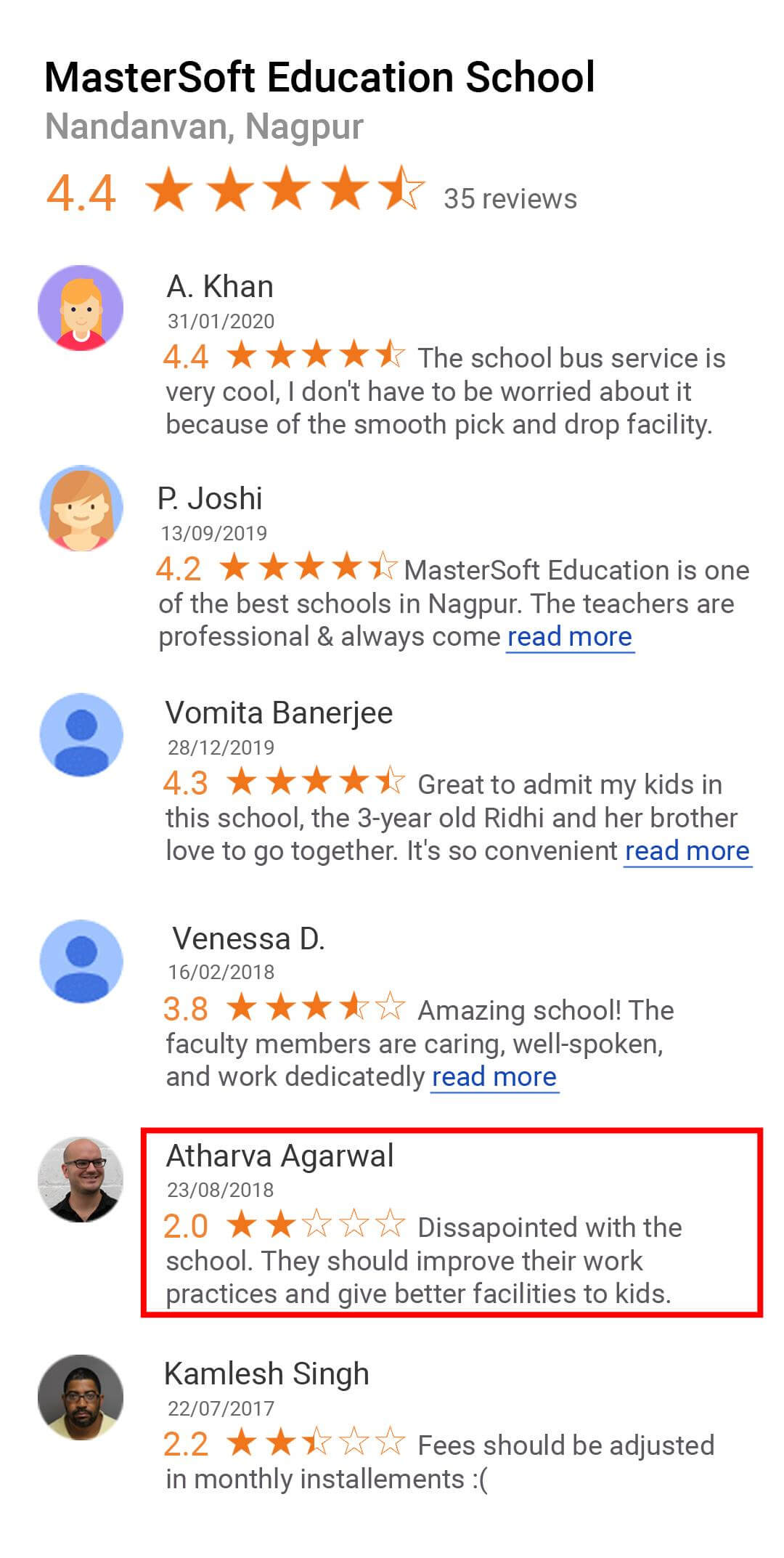 It therefore makes sense to invest in a clever online reputation manager aka an agency that handles digital marketing for schools, which can evolve a shrewd review response strategy to counter the online critic.
A genuinely annoyed parent or student needs to be handled with care and empathy. Don't argue online. Don't get personal. Don't ignore. Don't patronize. Thank the parent or student for their feedback. Assure the reviewer that you will look into the issue (without sounding like an automated message)! Suggest that the reviewer contact you personally to resolve the issue, by calling or direct messaging (DM). If, after looking into the issue, you find that your institution is indeed at fault, take responsibility. It is not a bad strategy to publicly acknowledge your fault. It also makes good "business sense" to publicly mention the steps taken to correct the mistake.
By personalizing your response and showing empathy, concern and a genuine desire to self-improve, you, on behalf of your institute, can win a few hearts and convert a negative reviewer into an ardent fan!
MasterSoft's team handles digital marketing for both private and public schools and colleges competently and diligently. Our review response strategy is guaranteed to keep your star ratings high.
Adopt a proactive content marketing and SEO strategy
But why wait for those negative reviews! You can always proactively create fresh, exciting content that dominates the first page, so those negative reviews or the occasional VERY damaging post by an irate employee you may have fired some years ago is relegated to the second or third page.
Our team that takes care of content marketing for schools and colleges is second to none when it comes to creating 100% plagiarism free content, which is search engine optimized and VERY engaging! Blogs, infographics, videos, website content, white papers and case studies with robust distribution across various social media platforms – we provide an array of content tailored to enhance your institution's online reputation.
Remember, building up a good online reputation takes years… and words! Years of hard, sincere, smart work both online and offline – so that the happy reviews dominate the unhappy ones. Words that highlight your strengths and potential, and, most importantly, that SHOW UP on top in Google search results, every single time!
Trust us with your online reputation. We won't let anybody tarnish it!