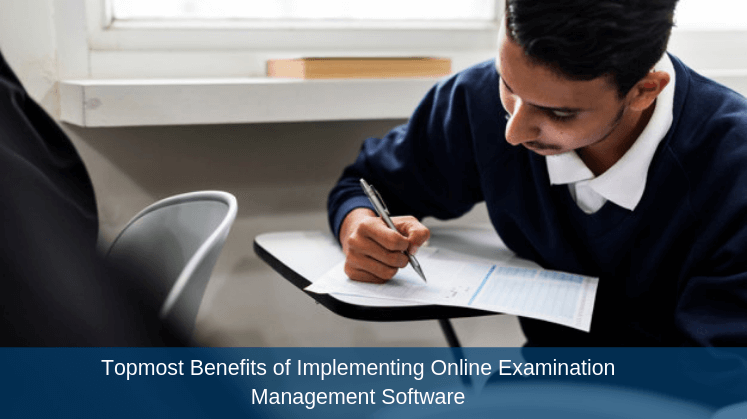 Gone are the days when means of education was restricted to a four-wall classroom. In today's tech-driven era, where everything is just a click away, anyone can learn and get an education without any hassle. Education ERP integrated with Online Exam Management System is one of the new feathers in the cap of technology that enables campuses to plan, conduct, manage, and assess examinations by minimizing the administrative processes & thereby, upgrading their standard of education.
Being a robust and scalable solution, an automated examination management system has become the choice of every top-notch educator. If you are an educator and thinking to invest in education ERP, you must discuss regarding such functionality with the ERP vendor to ensure institutional success.
Here are the topmost benefits of implementing online examination management software that would help you understand its utility in details...
Effective Time Management
Conducting examinations manually requires efforts as well as an enormous amount of time to plan out various activities such as the creation of exam paper, printing the exam papers and answer sheets, preparing a list of teachers, assigning different tasks to them, managing records of students appearing in the exam, allocating rooms, and much more. Apart from the time-consumption factor, the entire process could be mentally daunting for the management as well as the staff. With a student examination system, these activities can be streamlined and executed effortlessly on a computer via the internet within a short span of time. Teachers can upload the question papers on exam portal and provide separate login access to students on the day of the exam and conduct exam smoothly.
Hassle-free Conduction of Examination
Despite digitizing the exam by taking proper measures, there still remains a probability of malpractices and fraudster activities. For instance, an unknown student may give examination on behalf of the actual candidate. It could lead to serious issues and hamper the reputation of the institute in the future. An effective online exam management system that has a centralized storage of student-related data can prove to be a savior in such cases. Respective authority can store and save the student-related data in the system including their photographs and personal details. On the day of the examination, the invigilators can cross-check the data and thus, commence an authentic exam.
Accuracy of Results
Exam results play a pivotal role in deciding the future of students. Without the previous mark sheets or results, a student can't take admission to the higher class Result is the proof that they had appeared and successfully cleared their previous examination. Therefore, it's the responsibility of an educator to release the results on time so that students can further proceed with future endeavors. Campus automation system equipped with exam management feature can quickly access the answer sheets and calculate the obtained marks precisely within no time. The marks are then stored in a centralized database which the management authorities can send online to students or display publicly by taking printouts.
To Sum Up
A proficient examination management system can completely eradicate the need for creating and organizing heaps of student-related paper records by automating the process. On top of that, it saves the effort and time of resources and thus, helps in remarkable cost savings. Educators looking for a cost-effective solution to transform the examination experience of students and gain a competitive edge over other institutes must invest in Education ERP at the earliest.
Contact us to schedule a FREE Demo of Online Exam Management System!