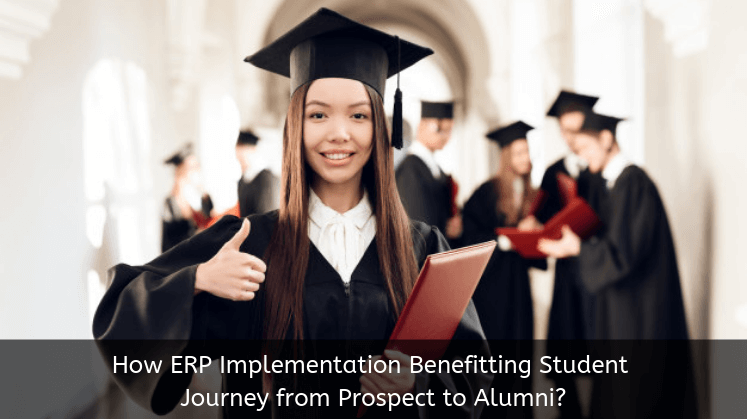 Right from day one, they bring a vibrant vibe in the institution, keep on making teachers proud with their achievements, and finally leave with phenomenal positivity behind to inspire the upcoming generation. We are talking about the 'heart' of educational institutions - Students!
Every student's journey is unique, but there's one thing in common, and that is their love and admiration towards the teachers. No matter what field one may be in, for instance, the student may have become a popular sports person or CEO of a company, the pure relationship they share with the institution grows stronger with time! Educational institutes indeed play a profound role in a student's life and nurturing their relationship with students can not only improve the institutional performance but also their brand & reputation in the long run.
How can educators maintain a healthy relationship with alumni?
All the educators need to do is collect and safeguard – Student Data!
However, the biggest challenge in doing so is, maintaining the student record manually for years is just not practically possible. The only way to manage student data is by implementing an Education ERP System with high-end student data security.
Here's how campus management software implementation can help educators to create a strong bond with students and make their journey worth remembering...
Focus on the Needs of Students
An Education ERP system with smart features such as automated attendance management, online fee payment, virtual homework assignment, and timetable & exam schedule creation can work wonders for the teachers as well as students. There's no doubt that daily attendance consumes way more time than it should. With automated attendance, teachers can mark the attendance of the class within a couple of minutes and utilize their entire time for helping out students and developing new methodologies of teaching. In addition to this, teachers can also manage additional tasks such as assigning homework and creating timetables with mere clicks.
If we talk about students, they may require standing in long queues for a long duration while submitting their fees. With campus automation system integrated with an online fee payment feature, students can easily pay the fees digitally, which in return is bound to save their precious time. In this way, ERP software can streamline & simplify the hassles of student as well as the faculty lifecycle, enabling them to focus on their academics and overall growth.
Scrutinize Ins-and-Outs of Institution
It's crucial for educators to keep track of in-and-outs of the institute along with students' academic performance. This can be easily done with the help of Education ERP integrated with smart analytics dashboards. Analytics dashboards can generate precise reports about every scholastic activity with just a few clicks of a button. Educators can scrutinize these reports; evaluate the ongoing activities in the institution, and decide their plan of action to escalate the results. For instance, they can ask their staff to pay attention to a particular subject where the majority of the students are performing poorly. They can further ask the teachers to incorporate innovative methods of teaching to help students learn with fun. This may seem like a basic thing but can bridge the teacher-student communication gap and strengthen their bond.
Student Data Security for Smooth Alumni Management
Campus management software embedded cloud technology is a dream come true for educators willing to enhance the student data security. Although an ERP would digitize the operations and seamlessly store heaps of data it doesn't guarantee security of student data. For exclusive safety and the security of data, educators must implement a campus automation tool with cloud technology. Cloud education ERP stores sensitive data in a centralized location and works via internet login. Fully integrated with encrypted layer transmission facility, it enables the management authorities to provide role-based access to the employees eliminating the risk of data theft and hacking. Teachers can utilize this data to keep in touch with students throughout their tenure in the institute as well as afterward when they complete their course and leave for future endeavors.
Key Takeaways
Education ERP software is way more than just an innovative system; it's a Student relation management tool in disguise! It keeps their contact details safe and helps educators to stay in touch with them. Apart from developing a healthy relationship with students, this simple yet powerful step can open doors to potential collaboration opportunities.