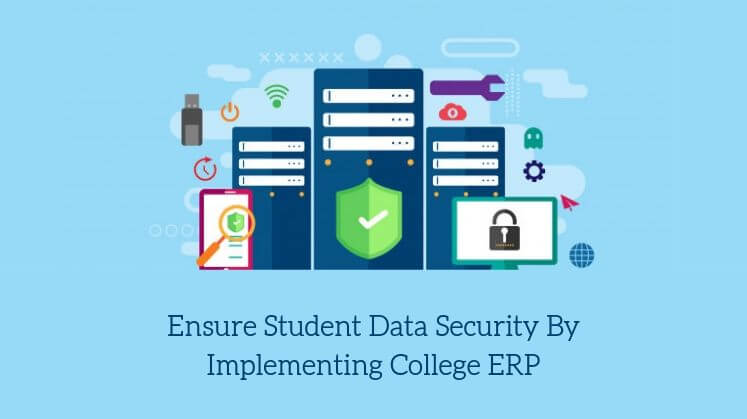 Even after technological advancements, student's data still remains the most valuable asset for educational institutions. Any damage to the data can directly harm their reputation, result in a decline of student admission ratio, as well as raise serious privacy concerns. Therefore, student data management and protection is vital when it comes to maintaining and strengthening the reputation of the college.
Thanks to efficient education ERP software, student data management has become much easier than ever. Right from collecting important information about students, keeping a track of their academic record, examination schedules, and extra-curricular activities to overall performance, an education ERP is capable of streamlining the workflow of institutions, saving a lot of time, and improving the collaboration between faculty and students which is bound to promote a healthy learning environment. College ERP is truly a boon for educators. However, just as every coin has two sides, technology has some disadvantages. The biggest of them all is - data breach or stealing of information. Implementing student information system may backfire the institutions when the stored data is misused or not taken care of properly.
What Are Potential Risks of Data Stealing Every Institute Should Understand?
As an educator, you need to understand that any misuse of data can lead to the following negative consequences that might affect the academic as well as the personal lives of students in the long run.
Academics

Complete academic data of students such as examination grades, scores, and overall performance report card could be manipulated or lost.

Fees and Dues

Educators could lose important information related to fees and the remaining balance within a blink of an eye. It will lead to huge monetary loss of the institution.

Spam Activities

Hackers may intrude in the college management system and send spam emails or messages demanding money.

Criminal Activities

One may steal and use sensitive personal information such as name, address, and age of students for heinous criminal activities such as kidnapping.
No institute would want to entertain such activities and ruin the lives of children, right? So, it's extremely important for them to take strict steps in order to maintain a perfect balance.
How can educators overcome student data security issues?
Harnessing the right Student Information System in the right way can easily solve the data security issues. By right ERP, we mean, a college management system enabled with features that can provide high student data security. To be honest, a cloud-based college ERP could prove fruitful for the institutions as it operates via the internet and doesn't require human interaction for regular software updates.
When we speak of communication, a cloud-based data management system sends any information in an encrypted form that acts as a strong virtual barrier for hackers. By implementing an efficient system, the admin gets the right to share information based on the role of the users. They can smoothly limit the information access with respect to the person. In addition to that, they can send and access the information from anywhere and at any given point in time with a cloud-integrated ERP system.
To sum up
In this tech age, Student Data Security has emerged as a major issue in colleges and other educational institutions. Educators aiming to fuel up the growth of their institutes along with maintaining student data security can achieve their goal by implementing a college management software as it is equipped with effective data security features.
Feel free to contact us for more details about cloud-based college ERP systems.