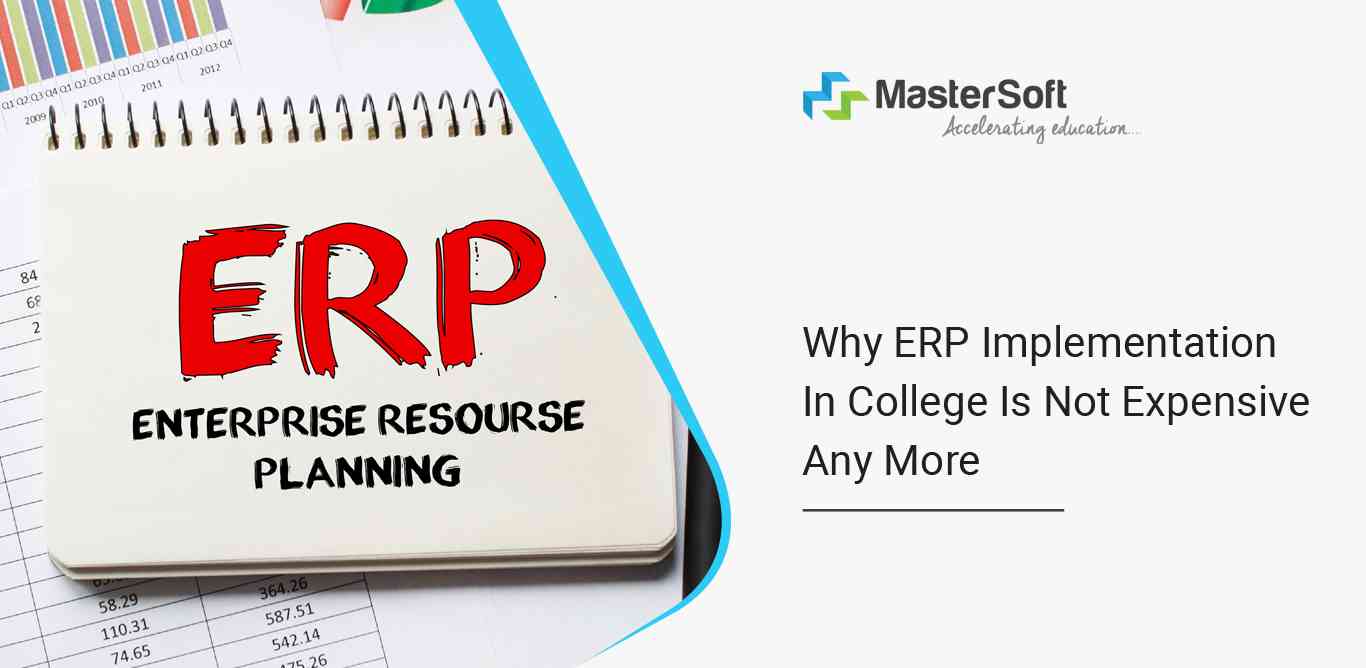 With the "new normal" situation that invited digitization in education last year, educators were left with no choice but to pay focus on implementing ERP in the campus.
Unfortunately, the situation today –in 2021 is still the same.
According to recent news – 13 states have cancelled their plans of re-opening the colleges. The stakes are high.
There's no slighter chance for colleges to discontinue the online teaching-learning & go back to the conventional pattern.
Therefore, it has become a "priority" for educators to implement ERP solutions.
As an education manager, if you haven't made the digital move already or need an advanced ERP solution but worried about the cost of the edTech tools, this blog is just for you.
Here, I will help you understand ERP implementation in college is not expensive anymore.
Let's get started!
#1: Integrated ERP Solutions – No Need to Buy Islands of Software!
As the trend of using ERP solutions continues to flourish for obvious reasons – it's quite common for educators like you to invest the money in "unwanted" tools.
What I mean is - you could easily opt for multiple software solutions for managing different activities.
Probably you have already implemented various systems like – online college admission systems, accounts software, payroll management software, library software, and so on.
However, the need of the hour is an integrated college management system that offers everything in one place. Therefore, while opting for the software, do take care of this aspect & implement a one-stop, robust, comprehensive ERP that serves you with required data & access from a centralized location.
#2: Availability of Secure Cloud-Based EdTech Tools
Unlike old-school on-premises College ERP software, today you could get a plethora of highly secure cloud-based edTech tools in the market. It requires extremely less cost of implementation as well as maintenance.
The manpower required for implementation & hardware installations is quite less in comparison to on-premises college ERP software.
Plus, you get high data security!
Once the ERP implementation engineer installs the system in your campus, you don't need to worry about anything at all. Any kind of maintenance can be done online on a secure cloud server.
#3: Automatic Updates from the Server
Continuing my point about maintenance, the cloud based ERP solution doesn't need a manual upgrade.
Whenever any update is released, it gets automatically installed via the server.
This means you won't need to call the ERP vendor professional from time to time for upgrading the existing system!
#4: Configurable ERP Solutions for Better Performance
When it comes to the cost of any software, the more features & provisions it provides, the higher will be its cost.
However, as I mentioned earlier, with an integrated ERP solution, you don't need to buy an island of software, everything can be configured in one system.
For instance, you need the integration of online college admission applications in the ERP, you can directly talk to the vendor & discuss the requirements in detail such as –provision of admission forms of colleges & fees management applications to streamline online admission processes.
And the benefit?
You get everything in one package! Greater cost savings!
#5: Complete Training before ERP Implementation
Complete staff training is one is the most neglected yet the most crucial aspect of ERP implementation.
Let me break this down in a simple way.
It has been observed that teachers & faculty face a lot of challenges after the implementation of the college ERP system.
As an educator, I am sure you might have faced this problem at some level. And the ERP vendors or a technical professional may charge a hefty amount to train your staff afterward. So, in a nutshell, to save money, you need to –
Ask for the demo of complete ERP software
Ask the vendor to provide complete staff training
Arrange QnA sessions for a better transition
It can save a lot of money. Most educators do the mistake of not opting for a detailed training session & lose money on basic training afterward.
#6: Reliable Educational ERP Vendors at Service!
If you ask the institutions whether they are happy with the college ERP software implementation or not – you will get a mixed reaction
Some institutions would have great experiences to share. While others may have horrible experiences post-ERP implementation.
The reason is simple – to save costing of the ERP solution, some education managers opt for any vendor without properly researching about their track record.
To ensure, you don't become one of them, you have to have researched a lot about the reliable & trustworthy college management system vendor before taking the final decision.
#7: Post-Implementation Service Support from ERP Vendors
Choosing a reliable ERP campus provider goes a long way.
Right from implementation to staff training, hand-holding to post-implementation services & support – they are readily available at your service 24*7!
All you need is to raise a ticket in case of any kind of inconvenience & their team would resolve your issues.
To Sum Up
EdTech tools are surely impacting the educational ecosystem in a positive way. The trend of digitization is here to stay in 2021 and beyond.
Implementing a college management system is the best step. ERPs are cost-effective & efficiency-enhancing tools.
Do implement it without a second thought!
For more details about college ERP software, get in touch with my team today!