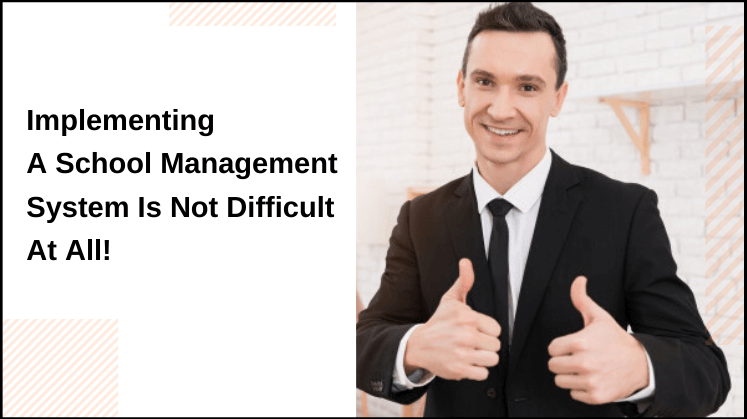 The thought of implementing a student information system in an institute of primary or higher education could cause some apprehension in the minds of decision-makers, whether they are trustees, directors of Multi Academy Trusts, heads of department or technical heads. Many educators who have so far been EdTech-averse are seeing the need to collate and consolidate their data more systematically, to assess learner performance and pupil-teacher engagement more accurately. Effective student data management software could generate consolidated reports rapidly, giving educators the wherewithal to take critical and strategic decisions speedily, based on sound information and analysis.
So, is it difficult to implement a School Management System? I feel your choice of ERP vendor will determine how seamlessly your new software integrates with your existing system. A good vendor does more than provide good software for your institute. He is also expected to provide services that ensure the smooth implementation and maintenance of the product.
A lot needs to be considered while selecting the data management software vendor for your school. If you can tick all boxes below, you know you have chosen well!
A good school ERP vendor:
Has a good data migration plan in place:

ERP implementation begins with data migration. While many may consider the stage of data migration inconsequential, it is, in fact, one of the fundamental phases of software implementation. A competent school ERP provider should be able to provide a qualified and experienced data migration analyst/specialist who can design and manage the data migration process in collaboration with the school departments and the rest of the technical team that has been assigned the implementation. The data migration analyst should be able to identify and communicate data migration requirements and risks accurately. The data analyst provided by the vendor should also be a good team player with an exceptional eye for detail and conscious of the need to correctly analyze, identify, secure, collate and upload past data without compromising on data integrity. Needless to say, you risk losing precious data if the vendor you select does not have a good experience in school data management and migration.

Never compromises on data security:

Any smart ERP vendor will give a general assurance of 100% data security. Only the responsible ones will give you details on what features, in their product, will ensure that data security is never jeopardized. Do ensure that guarantees of good implementation include robust security features: a centralized database, role-based permission to limit and channelize data-sharing, encrypted transmission of data and compliance with local and international security standards and guidelines. 100% data ownership, a data protection agreement that ensures data handover at any time in the future, highly secure cloud servers, multiple auto-backups, security checks and auto prompts that are triggered at sensitive action points – these are some security features that a good cloud hosted system will offer before, through and post implementation.

Provides flexible, scalable software:

We come back here to a sine qua non of present-day schools and colleges – the need for software that can expand and grow with your institution. An implementation model that is scalable can evolve with changing educational pedagogies and curricula. Cloud-based education technology can be easily updated and maintained by the service provider from a centralized database, whereas on-premise software is usually maintained by the school itself. Thus, in the long run, cloud hosting comes with more flexibility leading to significant cost-savings in updates and maintenance.

Can offer a bespoke system:

Customization, configuration and testing can and should be tailored to meet the specific requirements of your school. Experienced providers would have no issues with offering bespoke training to school staff, customized analysis and consolidated reporting that takes into account local, context or user-specific conditions. This model of implementation that respects and accommodates your institutional and local concerns can only come from mature, highly-experienced vendors with a global perspective.

Provides a dedicated implementation team:

Finally, do bear in mind that the best products can fail miserably without a dedicated team to install and monitor the implementation process. The team would look into all aspects of software upgrades, issues regarding access or data integrity, hardware maintenance, etc. Your vendor can be expected to provide the technical team required to ensure a smooth and easy transition to your new ERP software.

Thus, everything boils down to your vendor. Is he competent, flexible, thoughtful, experienced and qualified to implement your school ERP? Is he recommended by other institutions of standing? It makes sense to do background checks and verify credentials before choosing a vendor. Big names are not necessarily the ones that can provide the best service to your institute. Your school and your pupils and staff deserve the best student management system. Only a great vendor can make smart, rapid and neat implementation a reality for your school.

MasterSoft has proved its credentials time and again by providing excellent, continuous on-site support to all its clients. Its e-Governance ERPs like RFCampus are customized by MasterSoft to match the functional requirements of the institute where they are implemented. Moreover, being cloud-based, MasterSoft ERPs are flexible and can evolve with the institution they serve. Their technical team consists of data analysts and data migration specialists who have helped several schools and colleges in identifying, collating and uploading important past data so that data integrity is preserved to the hilt. Finally, MasterSoft solutions come with robust data security features such as end-to-end encryption, role-based access, a centralized database, highly secure cloud servers and multiple auto back-ups.

With over 20 years of experience serving over 2000 clients across the globe, MasterSoft has worked hard at building up a sturdy reputation for the highest quality of products and services. With an ERP provider like MasterSoft, implementation is as flawless as the product.
Read more - Mistakes Educators Do While Implementing Education ERP