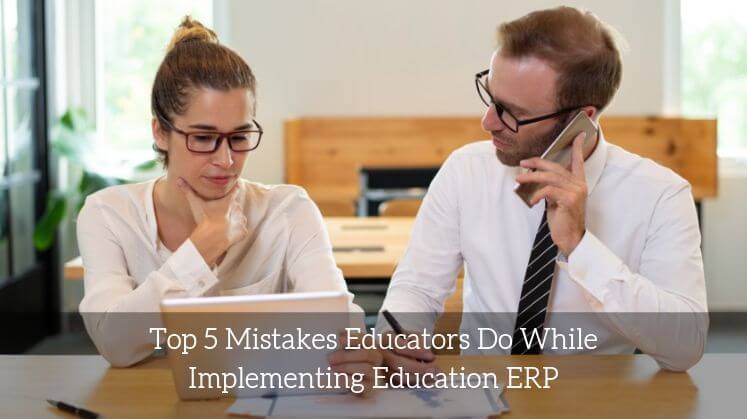 "Technology will never replace great teachers, but technology in the hands of a great teacher can be transformational." George Couros
Right from streamlining the workflow to managing grades, attendance, fees details, and generating highly precise performance reports of students, Education ERP Software holds the power to completely transform an educational institution. No wonder why 'Education ERP' has become a buzzword among educators these days! To be honest, choosing an apt ERP and its successful implementation can effortlessly take your scholastic goals to a notch higher by maximizing the overall productivity of your institution. However, there are some mistakes that educators should be aware of and avoid at every cost as it may lead to huge loss of time & money, and negatively affect their brand.
Here's the list of top 5 mistakes educators should be aware of and avoid for ensuring a successful Education ERP implementation...
Improper Planning
First and foremost mistake that educators commit while implementing ERP is improper planning! They must understand the fact that EdTech is not a magic wand that would resolve the issues of the organization just like that! The initial step should be detailed consultation with the experienced teachers, faculty, and staff members of each & every department regarding the problems they face while handling the tasks manually. Knowing the operational issues would help the educators to congruously plan what all type of features they require out of education ERP software. Discussing the needs and taking advice from the institutional members would definitely result in smart decision making.
Lack of Accurate Data
"Deploying educational ERP tool is a sheer waste of money."
"Deploying educational ERP is the best decision we ever made."
Hearing such contradictory statements from educators isn't surprising. The only difference between these statements is that the first one is from an educator who failed to implement ERP successfully while the second one is from an educator whose institute has been highly benefited after its implementation. The surprising thing is that both of them followed the same procedure!
Thinking, how's that possible?
Well, no matter how carefully you execute the implementation of education ERP software, you would still fail if you lack accurate data. For proper student data management, you need to feed accurate data in the educational ERP tool. Therefore, institutes must carefully proceed and input the right data during the transformation phase.
Ignoring the Deployment Options
There are two types of education ERPs that are widely used all over the world - Cloud Education ERP and on-premises ERP. On-premise ERP is the traditional ERP that educators have been using since years. It facilitates great results but, due to certain restrictions like complex implementation, an extensive amount of manpower, time-consumption, and costly technology with limited accessibility, switching to the cloud-based educational ERP is the best option.
Cloud technology doesn't require much time and manpower for its implementation. Everything could be effortlessly handled via the internet which saves time as well as capital of the institutions. The best perk of cloud technology is - accessibility. It enables institutes to access the software from anywhere and at any given point in time ensuring a safe and secure communication. Therefore, educators must consider and compare both the options, and then specify the one that suits their needs.
Insufficient Knowledge and Training
The credibility of the education management software substantially depends on the factor that how it is being managed. The user must have adequate knowledge about what ERP software is and what it could bring to the table. Apart from that, they must be seriously involved in the training sessions initially. Once the user understands the know-how of the ERP, they can successfully manage it which doubles the chances of better outcomes.
Not Choosing the Right ERP Facilitator
There's a glut of Educational ERP vendors in the market. In this era of marketing and advertising, everybody claims their product to be the best. However, being a responsible educator, you must not fall into the honey trap of fraudsters and think a hundred times before you finally make a decision. Choosing a reliable, renowned, and experienced ERP facilitator is a must from the point of view of investment as well as for accomplishing long-term scholastic goals.
To Sum Up
Implementing and maintaining an Educational ERP Solution in a correct way can significantly enhance the operational efficiency, optimize resources, and escalate the overall performance of the institution.
MasterSoft ERP software is one of the most trust-worthy cloud-complaint ERP solution providers across the world. From IIITs, NITs to top-notch colleges and universities, our dedicated team of professionals have designed customized end-to-end solutions for helping more than 2000 clients achieve their goals.
Want to join the bandwagon of successful educators?