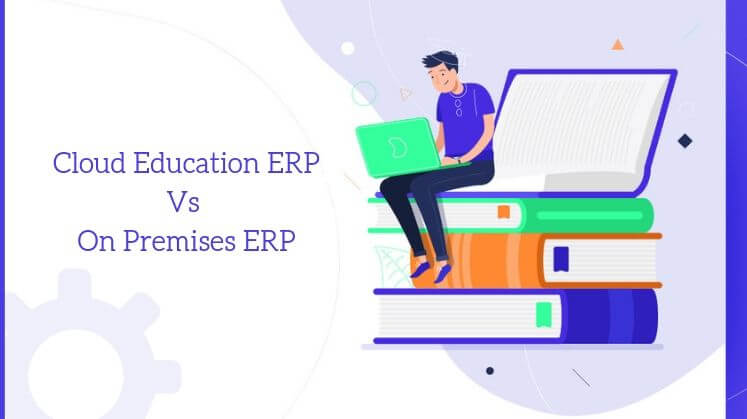 Ever since its inception, ERP software has proven its mettle in the education industry improving work efficiency. The three basic pillars that contribute to the success of any educational institution - proper planning, streamlining day-to-day activities and effective resource management can be easily achieved by the education ERP implementation. How be it, for enhancing communication, collaboration, and transparency between management, students, and their parents, it has become crucial for schools and colleges to broaden their horizons and think of upgrading their existing on-premises ERP software to cloud-centric ERP.
Why to deploy cloud-based education ERP?
The leading education ERP experts acknowledge that cloud technology is a better option as compared to on-premises ERP. Having said that, educational institutes that have been using the on-premise education management software from a long time might have concerns regarding scalability, security, and cost of the cloud ERP.
Is the cloud ERP worth the investment?
Would it meet the goals of providing security, speed, and cost-effectiveness?
Such concerns are genuine because it's always risky to leave the usual norms and adopt something new, especially when one has to make an investment. If you are also stuck in the same dilemma, understanding the difference between on-premise and cloud technology would help you make a smart decision.
So, let us begin with understanding the basic concept of cloud and on-premise ERP.
On-Premises ERP vs. Cloud ERP
First and foremost, the on-premises ERP solutions require manual installation of the software and updates on the machines which clearly indicates that an expert from the team of your education ERP facilitator has to be present on site until the task of installation gets done smoothly. On the contrary, cloud-centric technology doesn't require any on-site manpower. Right from installation to complete configuration, everything can be done via the internet in a hassle-free manner. This is a huge advantage which can't be overlooked as it will not only save enormous amounts of time but also, minimize hefty expenses.
Cloud ERP software is easy to deploy, facilitates online admission and fee collection, generate daily reports, improves communication and much more !!
Apart from this, you will reap the following benefits once you install cloud education ERP in your educational institute.
Ease of Data Accessibility
Educational bodies such as schools and colleges rely heavily on student and faculty related data. Searching the data manually from the piles of files and messy paperwork becomes quite difficult. Therefore, data accessibility is on the top priority when we speak of creating a productive work environment in educational organizations. With a cloud based ERP, you can easily save and store the crucial data on the cloud and access the same whenever and wherever you want. Unlike the on-premises ERP, cloud aids you a centralized platform which is hosted on a remote location.
Greater Connectivity
Another advantage of cloud technology is that it provides seamless connectivity. Teachers or any authorities can access the data from anywhere and at any given point in time with the cloud as it operates on the internet. All they need to do is simply login with the credentials from any internet enabled device, and they'll be able to access the respective information. However, one won't get such flexibility in case of on-premises ERP as it is dependent on the local server of the institute. Let's say if a student loses the connectivity of the on-premises server because of a power cut or technical issue, they just won't have the authority to access anything.
High-End Data Security
There's a big myth among people that cloud doesn't ensure data security and it could result in loss of sensitive information. In reality, it is totally the opposite! A cloud-based education ERP transmits the data with multiple layers of encryption to make sure that it doesn't get lost or hacked. In addition to this, role-based access to information is given to the users. For example, the information meant for higher level authorities is not available to students or staff members. The main authority or admin has the right to limit the flow of information. Admin can customize and set up rules according to their institute. Such practice would significantly reduce the risk of misuse of data in an education institute.
Cost-effectiveness
Harnessing on-premises ERP is not as easy as it seems. Educators using the on-premises software need to be very careful while handling it. Any kind of technical issue would mean that they have to seek help from their service provider and pay for the services. On the contrary, educators who opt for cloud ERP need to make a monthly or yearly payment, and they can enjoy the services for free throughout their tenure. The IT team can provide complete assistance via the internet, and this can literally help them save substantial amounts of money in the long-term. Moreover they do not need to invest in hardware, database, backup system, and data protection measures.
Read more - Cloud Based Education ERP - A Cost Effective Solution For Higher Education
Key Takeaways
Cloud ERP is flexible, economical, and intellectual technology that can prove to be a game changer for educational institutes who aim at excelling the field by providing staunch solutions to students. With cloud ERP, you can literally take your school, college, or university to cloud nine!
Get in touch with us to explore more about Cloud Based Education ERP Software.