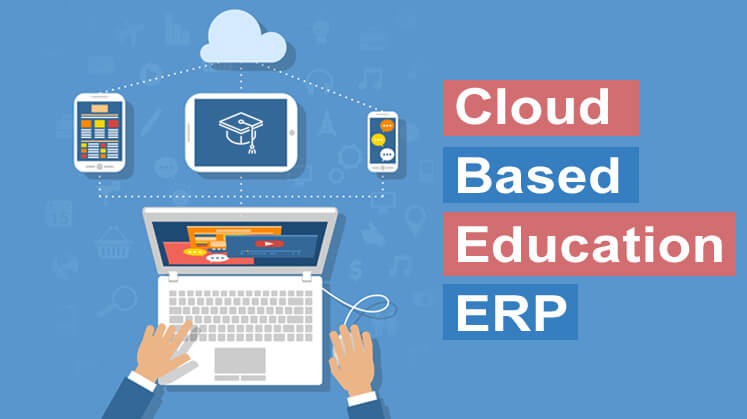 With a tough competition in the market and ever growing demands or expectations of the students as well as parents, organizations or institutes providing higher education need to stay updated by implementing latest strategies. One of the most significant aspect of this digital age is to continuously modify by deploying the most recent technologies for gaining benefit in ways more than one.
One such technology is - cloud-based ERP for higher education which is by far the most flexible and advanced solution. The 'cost-effectiveness' of a cloud-based solution is easily calculable.
There is no doubt that an organization having all its processes computerized has a higher success rate with improved ROI as well as timely attainment of academic and administrative goals. The digitization of any campus for efficient risk mitigation has proved beneficial to every organization which has implemented it, but it has come with a certain cost. The newer, comprehensive and secure version of a web based ERP solution is the cloud-based ERP or cloud-based higher education software, which is decidedly more pliable, maintenance free and compatible.
What makes cloud-based ERP economical are certain unique features. These distinctive qualities lead to reduction in cost with a much more stable and secure system, such as -
Effortless Implementation
The initial investment in its effective execution largely depends on the functions required and number of users. However, it is cost effective when compared to on-premise or web based ERP system mostly due to the reduction in expenditure related to physical implementation. A major part of the installation is carried out via the internet, like configuring the solution to suit the needs of a business and ensuring that everything is running smoothly, which saves the physical part significantly. Otherwise on site staff, who have the expertise, need to be there and manage everything related to the implementation. Only one personnel from the education ERP provider can carry out the necessary tasks thereby saving a lot of on-site manpower and the subsequent costs. Another considerable cost saving is achieved due to the reduction in expenditure on hardware.
Increased Productivity
A cloud-based ERP software is affordable to own, majorly because most of the IT infrastructure is maintained by the ERP partner. This also increases the productivity since the staff of that organization can concentrate more on business expansion rather than focusing on an extraneous task like maintaining the system.The best thing about a cloud-based software is that it allows better management of cash flow since it reduces the expenses related to
Hardware and network maintenance

Data backup, retention, and off-site storage

Monitoring and system security appliances

Infrastructure costs like firewalls, switches/routers, data replication appliances

Server maintenance

Power for servers

Network hardware
Easy Upgrades
Updating the ERP software incurs additional costs such as operational cost, hardware cost and cost for skilled manpower. Also a web based ERP system requires hardware maintenance which again leads to a certain expenditure. But, almost all cloud-based ERP softwares are automatically updated by the ERP provider and hence the system stays up to date always, reducing all types of related expenses.
Customized Solution
Cloud-based softwares are quite flexible, hence functions can easily be added or removed in order to tailor make it to the needs or demands of the organization. There are certain costs associated with additional functions. However, any added functions will not affect or interfere with the automatic updates and the software will not need any kind of re customizing as and when an update takes place. This substantially reduces time and extra expense and maintains the efficiency of the system.
Read more - MasterSoft's University Dashboard- How It Can Help Vice Chancellors To Leverage Decision Making?
Reduced Labour Cost
Again, the fact that most of the infrastructure as well as servers are operated and maintained by the ERP provider means that the expenditure on labour is cut back. Also there are no expenses for application management, database, operating system administration and infrastructure server administration. Quite a good amount is also saved on after-hours support, security monitoring,investigation, and mitigation as well as maintenance and testing of disaster recovery plans.
We, at MasterSoft, provide education management software to schools, colleges and universities. Our systems have been designed using state-of-the-art technologies, propelled by our futuristic thinking. We are honored with 2000+ successful installations and we let the numbers speak for us!