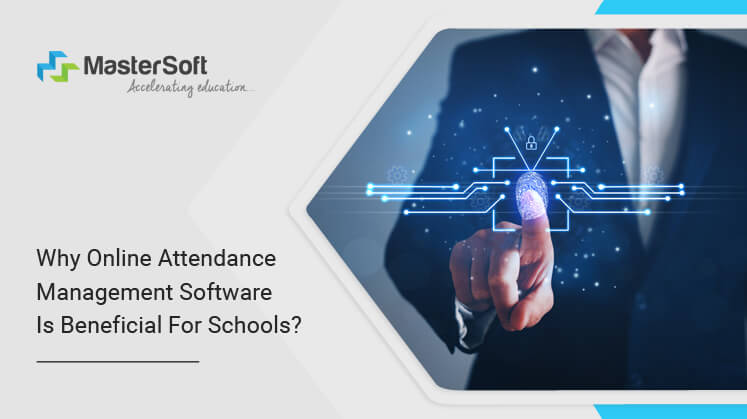 "Promptitude is not only a duty, but is also a part of good manners; it is favorable to fortune, reputation, influence, and usefulness; a little attention and energy will form the habit, so as to make it easy and delightful.": Charles Simmons
Rightly said by Charles, being prompt is the basic step that leads us to success.
The first time we learn this valuable lesson is our school life.
Probably why teachers pay a little "extra" attention when it comes to attendance!
Speaking of the backend of attendance, faculty usually carries out the work process manually.
There are schools where all attendance related work is done on paper i.e. the whole session attendance is stored in the register and at the end of the session, the reports are generated. It makes the daily attendance a very weary task for the faculties.
To overcome such old-fashioned processes, there are various software applications for attendance to speed up and make the attendance process easy.
"Online attendance management system" or "e-attendance" is one of them!
Online Attendance Management System is an application developed for student's daily attendance in school. It helps to maintain the accurate record and generate summarized student attendance reports for the students by applying various criteria.
How Online Attendance System Works?
To explain the working of an online attendance system for school, I am explaining to you one of the highly reputed MasterSoft online attendance systems for students. It will help you get an idea of the best online attendance system in the market and simplify your expectations.
It operates like the following -
On entering the specified URL, the online class attendance system opens the screen with menus - Home page, About Us, Contact, User Manual, and School Registration.
Administrator or authorized person from the school will go for 'School Registration' and on registration; it generates username and password and sends it to the user through SMS and Email. Users will have to log in through this user name and password for attendance. Links will be provided to the user as per requirement.
Download and then upload the Excel sheet where student's details would be filled in specified format. Students will be registered in bulk.
Master entries such as country master, state master, city master, holiday master, class master, and division master will be done.

Faculty registration will be done. On registration, username and password will be generated and will also be sent through SMS and Email. Subjects will be allotted to faculties. Also, classes will be allotted to the faculties.

After all the detailing, it starts attendance marking. For the Sundays and defined holidays, relevant messages will be displayed. Mark the attendance by click of mouse for each student. Go on clicking till the user gets the desired status. Lock the attendance.
Leave application facility is also provided. It is provided for both types of users i.e. faculty as well as students. Reflection can be seen while taking the attendance for that particular date i.e. students will be marked as 'L' on the particular date.
Along with this, a homework creation facility is also provided and its details will be sent on respective email accounts. The reports that can be generated are – student-wise attendance, day-wise attendance, class-wise attendance, month-wise class attendance etc.
Why Do You Need an Online Attendance Management System?
Whether you choose the MasterSoft online attendance system for students or any other online attendance system, the objective of Online Attendance Management System is to go with computerized systems, instead of old-fashioned manual processes.
As compared to the manual process, the online system easily helps management to analyze student's attendance details as per requirement. Besides the student data, it provides summarized & highly precise attendance reports very quickly at any point of time.
Advantages of MasterSoft Attendance Software Online
Being the most trust-worthy educational ERP providers in the market from the past two decades and still maintaining the trust make – MasterSoft Attendance Software Online is the highly recommended software by ERP experts.
I would like to highlight its top benefits & features to make your decision easier -
User Friendly: User interface is very easy. Data storing and recovery is fast and secured. In addition, application is provided with graphical representation for easier interpretation and analysis.
Reports are Easily Generated: Various reports such as student-wise attendance, day-wise attendance, class-wise attendance, month-wise class attendance, etc can be easily generated. Current and back-dated reports can be available instantly.
Zero Risks: No paperwork and no risk of errors which can occur while marking the attendance manually.
Features of MasterSoft Online Attendance Management System
A simple online application designed for all attendance requirements

Capable to store up maximum records

Fully compatible - needs only internet connection

Mobile as well as cloud support

Can be integrated with payroll management
The online attendance management system by MasterSoft has been built to eliminate the time and effort wasted in taking attendance. It is the best ERP software that fulfills the requirement of the system for which it has been developed. The system has reached at such a level where all bugs have been eliminated and operated efficiently.
Remember that the future of your institution is dependent on your decision! As Keri Russell once quoted - "Sometimes it's the smallest decisions that can change your life forever."
Therefore, as an educator, you must give it a thought!
It is clearly a win-win situation for you!
For further details, get in touch with my team of ERP professionals today.
Read more - Importance of Biometrics in Student Attendance Management System
Track & Manage Your Students' Daily Attendance with MasterSoft's Attendance Management Software.
Easy-to-use | No Paperwork | 24*7 Access
Mobile: 08448010216
Email: janki.somani@iitms.co.in