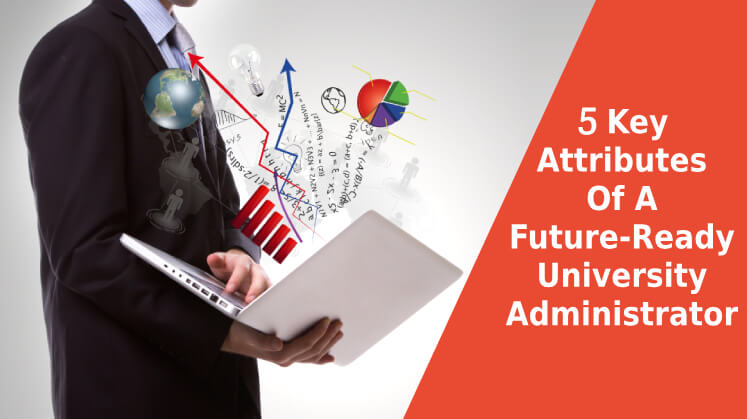 The administrator of any organization is majorly responsible for a plethora of things. Most importantly the administrator is the leader who is followed by many others. Thus, he has certain responsibilities and a prime role to play. But what makes a university administrator different is that he is not just followed by his faculty but also by the students.
Needless to say, the leader of an educational institution must be future ready. He must be able to plan, provide, and promote future ready techniques. There is no user manual for any leader to just follow and become. A leader is just a person continuously developing and evolving. So, here are listed the 5 key attributes of a future-ready university administrator.
Automating The Campus To Drive Progress
A leader is also a visionary who strives for a healthy, progressive and thriving campus. Such a campus can only be achieved by automating manual practices and eliminating repetition of tasks. For instance, automating the admissions process allows you to carry all the activities online which includes receiving applications, sorting application, generating merit list, display of merit list and subsequent notifications to the concerned persons, etc. This saves a lot of manual paperwork, reduces considerable amounts of time and also increases the productivity as all the necessary data is readily available. Similarly, a future ready university administrator can automate each and every process carried throughout the campus and hence digitalize the whole institution. Digitalization is one of the most influential, useful and key aspects of future readiness and hence must not be avoided or delayed.
Continuous Improvement And Use Of The Latest Edtech
Growth is a necessary element and, as a university administrator, one must believe and strive for continuous improvement. Today, any campus without technology is surely not improving and growing. In order to drive progress, one must be aware of the latest edtech and be able to implement it smartly to maximize student progress through optimum engagement.
Not only must a leader be able to incorporate the latest education technologies but also be able to use it himself. Stepping away from technology will only place one farther from one's goals of driving maximum student progress. The whole campus must be connected via smart edtech and teachers as well as the staff must be given proper training for the same.
Wise Use Of Digital Tools
A leader has many responsibilities and many people look up to him for inspiration and may knowingly or unknowingly be following his actions, words and thoughts. A smart administrator will make wise use of digital tools and be cautious of what he is doing on social media or other platforms where people can see the information that's been shared.
An administrator is, obviously, not into cyberbullying but should act actively, and not passively, against undesirable cyber acts. Being an 'upstander' is important than being a 'bystander'. One has to be careful of what one chooses to post, to like and to comment on, as it will affect many people.
Smart Data Management And Privacy
Smart data management is absolutely necessary for a smart campus. With analytics tools and higher education ERP, meaningful patterns can be found out and one can take effective, timely and smart decisions. As the data is stored on a single platform and can be accessed in real-time, with proper data management one can use it to bring about changes and even to find out what works best for them.
Whether it be student data, faculty data or the campus data, security matters. Putting all the crucial data on a single platform makes it vulnerable, hence efforts must be put in securing the data from both external and internal threats. A university management system provides role-based access and hence only a limited people with authority can access key data.
Understanding And Supporting Digital Equity
This is the digital age, but not everyone has access to digital devices at home or outside the campus. A future-ready university administrator knows this and acts accordingly. While a leader may promote e-learning aggressively, which is a very wise step to take, he must also be aware that not all the students are privileged enough to have full-time access to digital devices.
Such students must be given ample amount of time to complete their tasks at the campus itself. Digital equity is very important and, as a leader, one must make space for every kind of learner. Some students or some faculty may not be very familiar with edtech or technology itself, such people must be kept in mind while designing anything new involving technology.
The smart course of action would be to give training and provide extra sessions for such people. Remember, a campus will never be truly progressive until every student and faculty has equal learning, growing and exploring opportunities. If these steps are not taken, then chances are that there will be a huge rift between the digitally privileged and the underprivileged.
These are the 5 key attributes of a future-ready university administrator, which not only demands one to have a futuristic vision but be understanding and thoughtful of everyone. The same strategy doesn't work for everyone or every time, hence growing and evolving is the key to prosper and drive success.
To know more about edtech, and education ERP, you can contact us