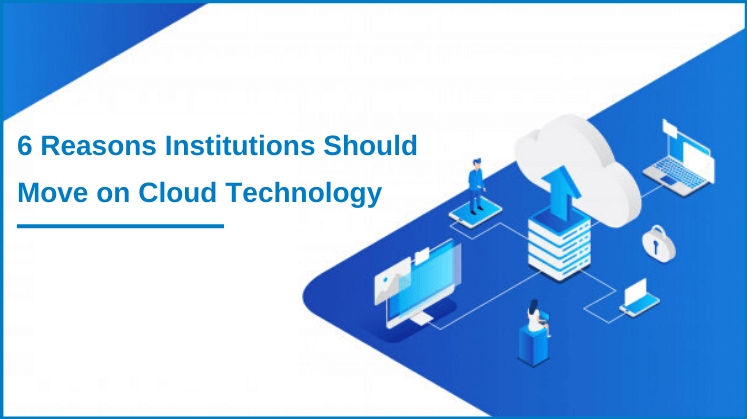 "Is cloud implementation is a sound decision?"
Ever since its inception, cloud technology has become a hot topic for debate amongst educators. While some educators have implemented cloud education ERP in their campus & experiencing its benefits, there's another side of the story where educators question the student data security provided by the cloud and are still stuck with the traditional on-premises Education ERP. Well, if the practical scenario is scrutinized carefully, you'll find that cloud implementation is indeed a smart move that can help educational institutions achieve their goals within a short frame of time.
No matter what others say, moving to the cloud is definitely a crucial decision and can't be taken overnight. To make your decision clear, we have compiled a list of the 6 reasons why institutions should adopt cloud technology. You can go through the article & take an informed & sound decision.
Here are the top benefits that educational institutions can reap with cloud ERP implementation...
1) Scalability & Flexibility of Cloud
The biggest benefit of a cloud ERP system is its scalability & flexibility. Unlike the on-premises ERP system, cloud ERP enables educators to add or remove users from the network depending on the requirement. It depicts that educators don't need to pay the extra money, they'll be charged as per their usage.
2) Student Data Security
Cloud technology enables the admin to provide role-based access to the teachers limiting unwanted access to highly sensitive data. The faculty can simply log in to the system with personalized ID and password credentials from anywhere & at any time and access the data assigned to them. Educators or head of the institution can track their daily activities from their login portal whenever required. Thus, the student information system hosted on cloud technology eradicates the chances of data mishandling & ensures high-end student data security.
3) Data Disaster Management & Recovery
Educators often worry about losing their sensitive & confidential data while working on cloud-hosted education ERP software. The concern is genuine because every single activity of the institution is dependent on student data. Any sort of mishap related to student data can bring adverse effects to the institution in terms of its productivity & reputation. To avoid such instances, educators must look out for Education ERP Providers that offer a cloud system embedded with a data disaster management & recovery system that allows auto-data backup for a hassle-free operation.
4) Cost-effective Education ERP
Being an educator, your concern regarding the investment in the cloud is justified. While the implementation of on-premises ERP is cheaper than cloud ERP initially, it could break your bank whenever you need to update it in the future or need the help of a technical expert. On the contrary, the cloud campus automation system doesn't require much investment in later stages. Once its implementation is done, you just need an active internet connection for operating it. In addition to this, you also get 24*7 online assistance in case of any trouble.
5) Monitor Multiple Institutions Simultaneously
The burden of handling multiple institutions may become a headache for educators. It's not an easy task to visit multiple institutions frequently & keep a tab on every activity. This may decline the productivity of the institution in the long run. However, with a cloud-based education ERP system with an analytics dashboard, educators can perform the task with ease. They can access the data of multiple organizations with just a few clicks & successfully handle their processes.
6) Smart Decision-Making for Institutional Success
The cloud-hosted ERP with an analytics dashboard is capable of generating various reports regarding different departments such as the library, accounts, finance admissions, and much more. Educators can track these departments & scrutinize their performance by evaluating the precise reports. It would certainly make a difference & drive institutional growth.
In a nutshell, cloud technology can solve a lot of problems faced by institutions & provide a roadmap to success along with maintaining high student data security. It's high time, educators must move to clouds for fulfilling the needs of institutions & staying ahead of their competition.