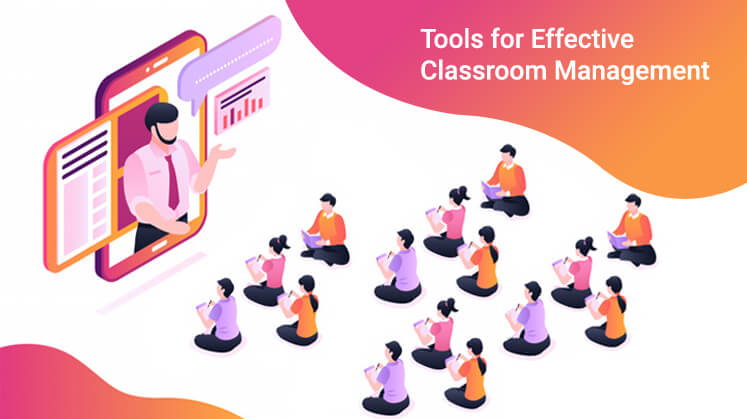 Teachers were only tentatively experimenting with technology in the past. However, they have been bulldozed by the corona virus into adopting elearning tools. And they are discovering that remote teaching-learning is quintessentially student-centered, democratic and humane. As educator and writer Jerry Blumengarten states, "Tech gives the quietest student a voice".
If you are considering purchasing a school erp system for your institution, do be assured of the quality and scale of its e-learning modules. The effectiveness of your classroom management skills will depend largely on your approach and the tools you use to implement it. E-learning software is designed to supplement and support a modern pedagogical approach. Ideally, when both tools and approach are learner-centered and encourage two-way communication and autonomous learning, your classroom can become a space where every student has a voice and all talents are realized.
I consider these four tools as fundamental to effective class management: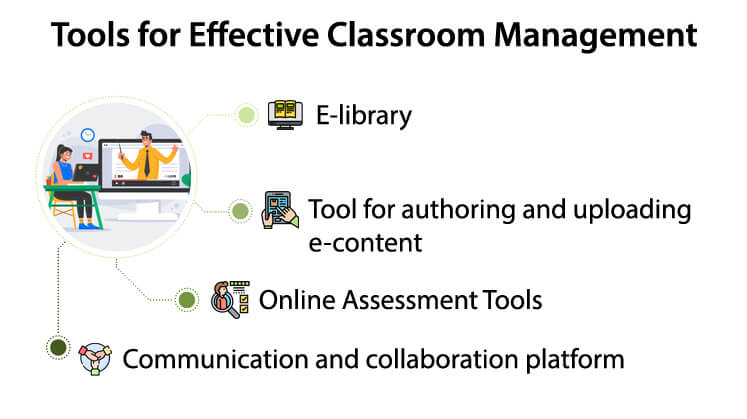 Tool for authoring and uploading e-content:
The process of teaching and learning needs to be interactive and fun. If you are open to looking beyond prescriptive text-book presentations, there is a lot you can offer to your students, right from notes to video lectures and e-books. Developing engaging and diversified content can be time-consuming and costly if you do not have a tool dedicated to it. And classrooms are best managed when students are constantly exposed to a wide array of rich, informative and meaningful content that keeps them motivated and asking for more.
E-library:
A lot of the e-content that has been authored and uploaded by the teacher needs to be stored securely, classified, catalogued and made accessible to future learners and teachers. An E-library could give students and teachers learning resources they could dip into and use for reference or research purposes. It could thus provide much needed support through online classes.E-libraries encourage collaborative learning since e-books, audio-video material or online documents can be recommended, shared and searched online. Classrooms can thus become an exciting space for cooperative effort and learning. Your interactive classroom will be a lot easier to manage, when students are jointly engaged in sharing, imbibing, assembling and disseminating knowledge from a unified knowledge base.
Online Assessment Tools:
Your school's class management software should include a provision for e-assessment, both summative and formative. Your learners need to be evaluated routinely and with Covid-19 keeping physical areas and hard copies of assessment out of bounds for both examiner and examinee, the only way you can measure the progress made by the student is via digital assessments. The creation of assessments becomes a cinch with dedicated software for the purpose. When the progress and responses of students are documented, they also give the teacher a good idea of the level of academic knowledge and skill acquisition of the student. Teaching methodologies can be adjusted, reviewed or discarded depending on what the assessment reveals of the student's understanding of the subject matter. Interactive online quizzes, multiple choice questions (MCQs), descriptive exam tests and provisions for creating question banks & assignments help students assimilate core concepts with ease. Punctuating an academic session with well-conceived online exams and mini-tests gives students a sense of structure and helps teachers manage them better.
Read More: Quick Guide for Educators While Conducting Online Assessment Using Tools
Communication and collaboration platform:
Finally, a good communication and collaboration platform is a must in any class management system as it keeps all stakeholders in the connectivity loop and ensures a steady, smooth, pleasant flow of communication between teachers and students. A good Learning Management System (LMS) will not only ensure rich teaching-learning sessions but will also integrate discussion forums and internal communication channels (chats, emails, and other collaborative tools) with the e-learning platform. Students will thus find it easy to communicate their doubts and reach out to teachers whenever they are in any distress or wish to share their concerns or thoughts. Teachers can reach out to students and make the platform not just interactive, but also reassuring and a source of lively discussions and debates. A collaborative platform helps teachers partner with their colleagues or invite them in for class observation. They can share and create great e-content and e-assessments/assignments together. Finally, good communication between teacher and student is critical to successful classroom management. When communication falls apart, both the teacher and the taught can go to pieces. Hence the need for smart tools to make the classroom a stimulating, dynamic and comforting space.
George Couros, a leading educator in the area of innovative teaching, describes the role of technology in education succinctly: "Technology will never replace great teachers, but in the hands of great teachers, it's transformational."