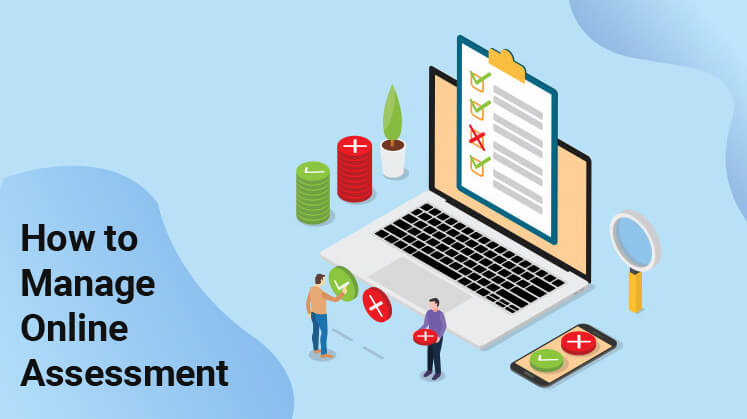 "As per the teaching-learning plan made in consultation with educationists, principals & teachers of various schools, students will be supported remotely by the teachers with the help of parents, siblings, and technology." -
Tweeted Mr. Manish Sisodia, Education Minister, Delhi, India
The lockdown situation due to the Covid-19 pandemic has adversely impacted the majority of the nations worldwide. The entire world is dealing with constraints that used to be "unnecessary" earlier!
Who knew that walking out of the house would be risky one day?
Anyways, education being one of the prime areas of concern, every government body is taking care of students by promoting online education or e-learning. As an educator or faculty, you must be aware of how e-learning works. However, online teaching-learning can't alone be effective. You need to strategically think, plan, and design effective online assessment tests for unleashing the knowledge of students & making e-learning a success story.
Here I am defining some crucial parameters by which you can manage online assessments with ease…
Right Tools for Driving Best Learning Outcomes
The online assessment tools demand replacing the old-school pair of "Pen & Paper" with "Laptop & Internet". Alongside students, teachers & K12 faculty no longer gets the comfort zone of teaching in the classroom. Everyone needs to upgrade themselves & develop a tech-savvy attitude.
Sounds difficult?
Well, it can be difficult to take a digital leap all of a sudden. Therefore, you must ensure using edTech with the most productive e-learning modules. Do check out for the following functionalities with your educational ERP vendor –
Cloud-based student evaluation tool with simple interface
Accessibility to remote locations across the globe
Flexibility with various assessment methods – MCQs, descriptive, Others
Interactive questionnaire with – Diagrams, pictures, animation
Correct answers display provision at the end of test
Results of tests along with areas to improve
Mock assessment tests for continuous practice
E-books & study materials for in-depth analysis of any topic
These functionalities will help you create the best virtual classroom experience and enhance the skills of students, which in return would boost online skills assessment test outcomes.
Assessment Question Bank Extending Beyond Bookish Knowledge
Assessments are generally based on curriculum guidelines. A cleverly designed curriculum that covers practical aspects of learning rather than just theoretical knowledge can contribute largely to student progress. If the current syllabus doesn't fit in the advanced learning norms, then teachers must redesign a curriculum along with a vast question bank comprising of logical & skill-building questions and integrate it in the learning management software (LMS) for the betterment of assessment tests.
Strong & Secured Internet Connectivity
"Ma'am I couldn't attend your online class because my internet connectivity was lost!"
Coming across such "digital" excuses to bunk "digitally" organized online examination & classes will be common in upcoming days. Hence, ensuring strong internet connectivity is paramount when we speak of distance education. Nothing can work if the internet is down! That's not all! You may also witness dialogues like -
"Someone must have manipulated the results. After all, it's digital!"
Unfortunately, the point is valid. Digitized school ERP platforms are subjected to fraud activities to a greater extent. To safeguard the sensitive assessment data such as grades of students & marks, the online connection must be secured & encrypted. It will avoid the chances of any third-party intrusion during online exams.
In a nutshell, educational institutions must pay attention to the following two things for conducting assessments online seamlessly -
Firstly, connectivity on both the ends – faculty & students end
Second, the security measures of the online teaching session
Key Takeaways
Digital learning platforms have zillions of advantages that add value to the education system & curtail the need to follow the long working processes in an institution. From being environment friendly to providing the flexibility to conduct & take exams from any part of the world, the e-learning software minimizes the work burden of K12 faculty tremendously & makes everything faster by streamlining work processes.
For more information on e-learning for higher education & schools, get in touch with us!