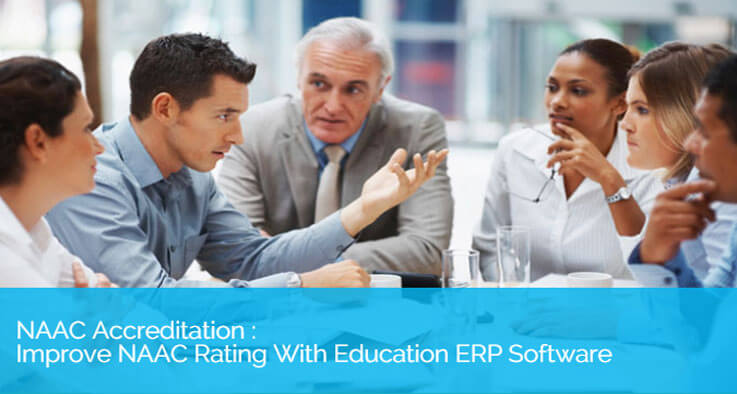 NAAC stands for National Assessment and Accreditation Council. This is an independent body. The University Grants Commission established this council. The purpose of this council is to evaluate and endorse higher education institutions in India. Established in the year 1994, this body is located at Bangalore.
Importance of NAAC for institutions:
Institutions should apply for the NAAC Accreditation for the following reasons:
It will promote intra and inter-institutional interactions

It offers society with dependable information on the quality of education that an institution offers.

Institutions can get a new sense of identity and direction with this accreditation

Initiatives that an institution makes can get into modern and innovative methods of pedagogy

With this accreditation, institutions can scrutinize their opportunities, weaknesses, and strengths.
All these factors make NAAC Accreditation important for institutions.
The important aim of the NAAC is to contribute to the considerable improvement of the institutions in the process of accreditation. When an institution has the right accreditation, funding agencies will prefer the institution for releasing grants for research and expansion.
Role of ERP Software in educational institutions:
Educational institutions like colleges and schools have a very large environment themselves. So, they have complex educational and administration processes in place for effective management in a perfect and in an easy manner. With the increasing student-strength, the tasks also increase and they should be managed in an efficient and cost-effective manner. This is where the ERP Software will help colleges.
In general, for ranking an institution, the following aspects are evaluated:
Values and the best practices of the instruction

Management, leadership, and governance

Progression and support to students

Learning and infrastructure resources

Extension, Innovations, and Research

Evaluation, Teaching, and Learning

Curricular aspects
Institutions with higher education software can ensure each and every operation hassle-free. When every practice that an institution follows is up to the mark, the college will gain better ranking in the criteria that are evaluated.
How will a good education ERP Software help an institution?
The good thing about a dependable education ERP solution is that institutions will get the right accreditation report with recommendations and gaps. In addition, they will get the appropriate suggestion for improvement. They will learn how to get better grades for the accreditation. When they learn the techniques of improving the compliance with accreditation standards, ranking will become easier.
The college management software generates different MIS reports and many other reports that which help institutions when the NAAC team visits for evaluation. The reason is that the team will check all the reports. There is a report referred to as IQAC. The team considers this report with great value when grading institutions. This report is generated in the right manner by the best software.
Importance of IQAC Report:
IQAC is given importance because it ensures gradual improvement in performance with respect to monetary tasks, administrative and educational tasks. Further, it assures transparency and accountability in all issues pertaining to decision making. Also, it ensures co-operative and collective administrative and educational environment in the institutions. For these reasons, it is better to choose an ERP Software provider, assuring IQAC Report.