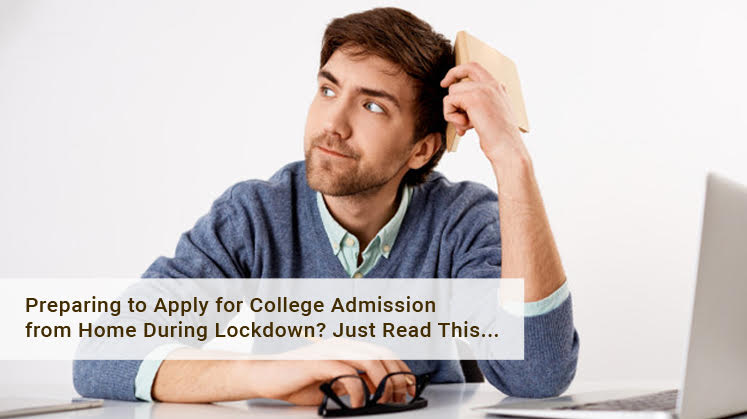 Many state board class 12 & 10 results are out now, drawing all eyes on the college admission 2020! Since many leading universities like Maharashtra University, Pune University, and Delhi University, have decided to conduct online admissions strictly due to the pandemic situation, children & parents are in dilemma of what should be done.
Two prime reasons causing dilemma are–
Online admission is a new concept
Fear of using edTech tools like college admission software
However, as social distancing is the need of the hour, whether you are a parent, student, faculty, or educator, you have to follow the protocols of the Government of India & Universities.
Wondering how you can decide the best college while being stuck at home?
Queries related to online admission procedure are flooding in your mind?
I am sharing some helpful tips on how you can efficiently utilize the digitization shift to ensure a seamless virtual education experience…
Tip 1: Consider Lockdown as an Opportunity to Explore Better Options
The number one tip is - don't look at lockdown as adversity!
All top-class colleges have switched to the digital processes in the face of lockdown. So, instead of succumbing to nervousness, utilize this time to explore such colleges and universities.
Make a list of educational institutions that are offering your desired courses.
There are universities across the globe which are allowing students to study from home without moving abroad.
Check out various websites and explore your local as well as global options!
Tip 2: Take Demo Online Classes via e-learning Tools Before You Make Final Decision
Seeking admission in a particular institution merely because you've seen advertisements' boasting of its culture & facilities is just not a good idea.
Promoting oneself as the best is the rule of marketing!
Marketing & publicity of a certain college doesn't define its reality.
In such instances, attending a couple of online lectures and classes can make the bigger picture clear for you. You can request college authorities to arrange online video lectures with the help of e-learning tools for students like you to get a gist of their academic life.
The e-learning sessions will give you an informative insight about the faculty & academic environment of the institution and ease your final decision-making process!
The best part is you won't even need to step out of your house!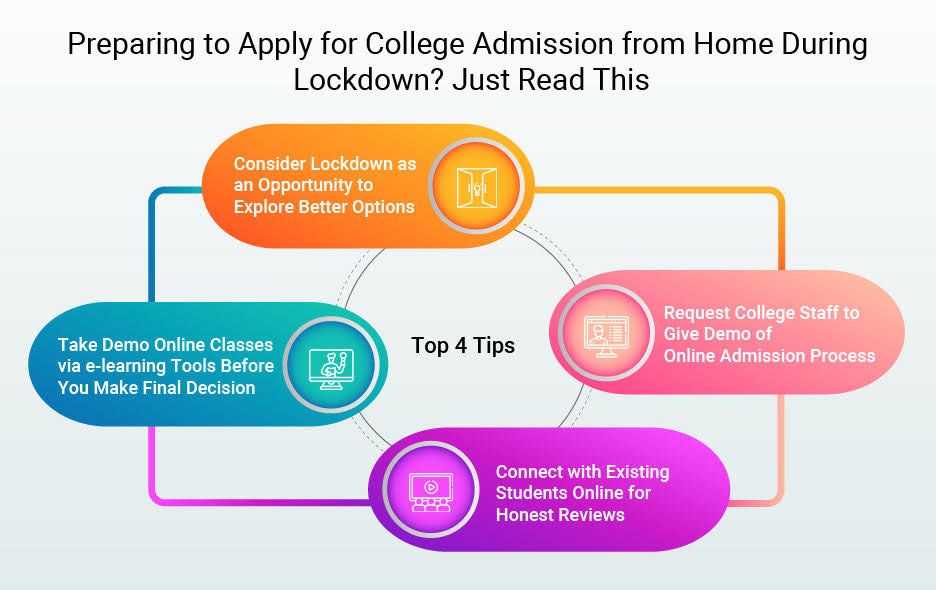 Tip 3: Connect with Existing Students Online for Honest Reviews
You must be spending hours and hours on social media doing nothing, right?
Well, this is a drawback of sitting idle at home during the lockdown phase!
The best productive thing you can do at this moment is to utilize your social media & get connected with students- existing students of the institution that you are aiming to get enrolled in.
It will help you curb the curiosity regarding the college & its educational setup. You'll be able to find out what the college has to offer you in the upcoming years. In addition to this, you'll get some new friends as well! Quite a good deal!
Tip 4: Request College Staff to Give Demo of Online Admission Process
Your dream institution must be using an efficient college ERP system to make the admission procedure hassle-free for students.
And you must be having tons of questions regarding using the college management system platform like how to utilize the college ERP for online college admission process, how it works, what courses are there, how to choose desired courses, etc.
With the drastic change in the educational landscape, it's pretty normal to have such concerns.
You can reach out to college officials and management via emails & ask them to provide you a demo of the online admission portal instead of sharing an e-brochure.
It will surely be a win-win situation for both of you!
Words for the Educators & Faculty
If you are a higher Ed faculty or educator searching for the best college ERP system software during the admission season, get in touch with us!
We will guide you on how you can streamline the entire admission process right from receiving college candidates' applications to registration, final admission & fees management.