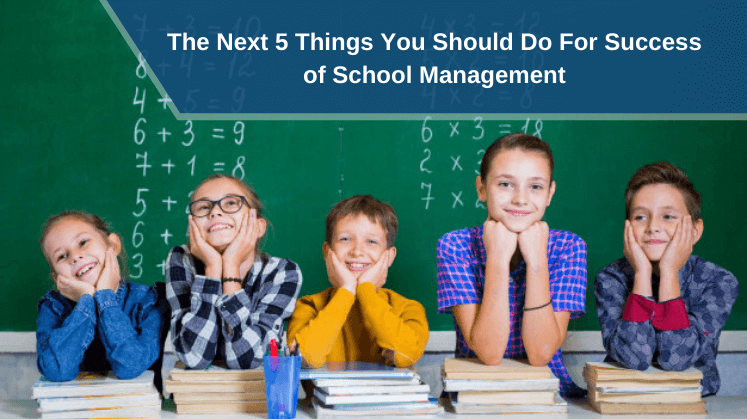 Setting your school up for success requires that you ace certain key management skills. After all, a school is much more than its physical infrastructure. To succeed, it needs to demonstrate a capacity for delivering stellar results year after year. But success is not just about impressive learning outcomes. Those outstanding results can only be showcased when the school raises its standards from the inside out. Everything matters! From your school management system to how you handle exams, admissions, human resources, parent-teacher interactions…remember, the devil is in the detail!
If your school is on auto-pilot, here are the next five things you should do for school management success:
Automate
If you want results and want them fast, you will need to automate all the mind-numbing, monotonous, repetitive tasks first. If you open up to the idea of automation, you will be surprised at how much more can be achieved, in far less time, with optimal use of resources and labour. An online admission system could take over the task of capturing, tracking, nourishing and converting leads systematically. Customized emails or text messages could funnel leads into a credible database. Thus, your lead and admission software could also be your institute's best marketing tool. Parental engagement could be improved with a good communication App. Library management software hastens the process of issuing and returning books, book search, research and cataloguing. A good time table management system takes over the thankless and complex task of time tabling and even handles substitutions and overlapping classes. If you want to focus on what matters – critical, tactical decision-making, interactions with staff and students, networking for your institute, improving learning outcomes – you need to delegate…to a software, if possible. You can then reserve essential human resources for tasks that require humanity and the ability to think on one's feet.
Ace financial management
A successful school director or head of department will not allow the school to sink into loss or bankruptcy. While financial managers and chief accountants can handle the nuts and bolts of financial management, if you are in a leadership position, you need to understand the process of procurement and purchasing. You need to have enough knowledge of finances to be able to drill down to data that may be causing your school some loss. It would also help for you to learn to identify possibilities of cost-saving. To see the whole picture and compare expenditures and incomes of different departments, you could invest in an effective financial management solution. Intelligent business intelligence-powered dashboards could generate consolidated reports that help you make informed decisions and oversee your annual budget.
Communicate
Parents, teachers, co-directors, heads of department, students – you need to keep them all in the connectivity loop at all times. Your communication skills as a leader will be tested on numerous occasions every day. You may be in a remote location, but when you are in a leadership position, you will need to keep communication channels open at all times. Smart phones do help, but streamlining regular communications and allowing a smart school communication app to do the bulk of the routine messaging for you would free you up for those crucial conversations/talks/seminars which only you can handle.
Demonstrate flexibility
It is imperative, as the next step to success in school management, to demonstrate flexibility in your choices and decisions. Nothing is written in stone – especially when you are managing human beings. Students may want more or different subjects to choose from, teachers may desire more flexibility in lesson planning and exam management, students may not be at ease with a certain time table. The reality is that most processes and workflows that are manually managed are not easily adaptable to changing situations and mind-sets. On the other hand, an examination management system or time table software or a choice based credit system would allow you or the students or teachers to exercise options according to your interests or requirements. When you adopt a flexible system for your administrative and academic workflows, you are demonstrating a capacity to adapt to changing circumstances. This makes you more approachable, more humane and trustworthy.
Ace data analysis/performance appraisal skills
One last feather in your cap would be your capacity to analyze data or evaluate performance after viewing data on your school management system. A good education ERP would not only give you an overview of relevant data, but would also generate consolidated reports on learning outcomes, staff performance, attendance, finances, etc. which could give you a holistic picture of your school. Performance appraisal and data analysis are fundamental skills that every head of institution needs to learn and practice. Your school management software should be able to help you generously in this task. If you have invested in a business intelligence-based ERP, the analytical dashboards can generate graphical reports with precision, in seconds. Your decision-making skills can be greatly enhanced if you base your findings and choices on these reports.
Read more - 5 Things to Consider When Choosing Higher Education ERP
A satisfied and enthusiastic parent community, a motivated corps of competent teachers and above all, happy, confident and balanced pupils must all come together to create conditions for the success of an institution. Needless to say, an inefficiently-run school can never boast of an inspired force of educators or good learning outcomes. A step at a time, you can steer your school to success, by easing the workload of your staff and teachers, offering them viable and exciting choices, arriving at informed decisions without delay, being just and equitable in your allocation of responsibilities and communicating your thoughts with clarity and humanity.