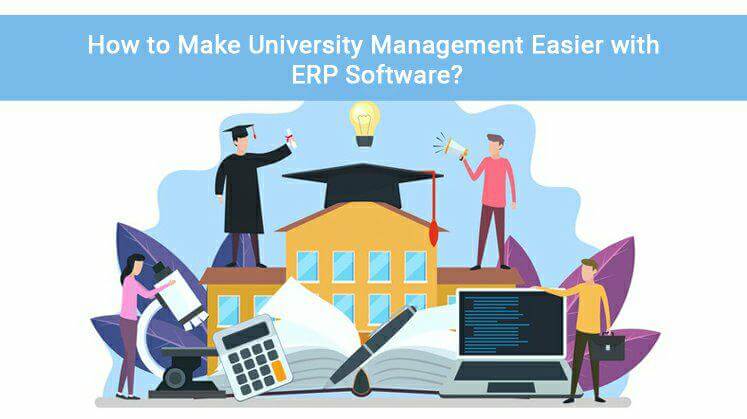 Modern, tech-savvy youth have little patience today with reams of paper, ink pads and stamps, musty file-laden shelves and sullen administrators. They care more for speedy processes, quick answers, and the precision and response-time of the Google search engine! A comprehensive erp for university management would not only attract more of those brilliant, creative young minds to your University, but would also make University Management an effortless and pleasant job for you and your team.
When you choose to modernize your University, you will discover that automation and information management are key to taking your Institution and affiliated colleges to the next level.
Here's how you can make University Management easier with smart, cloud-based University erp software: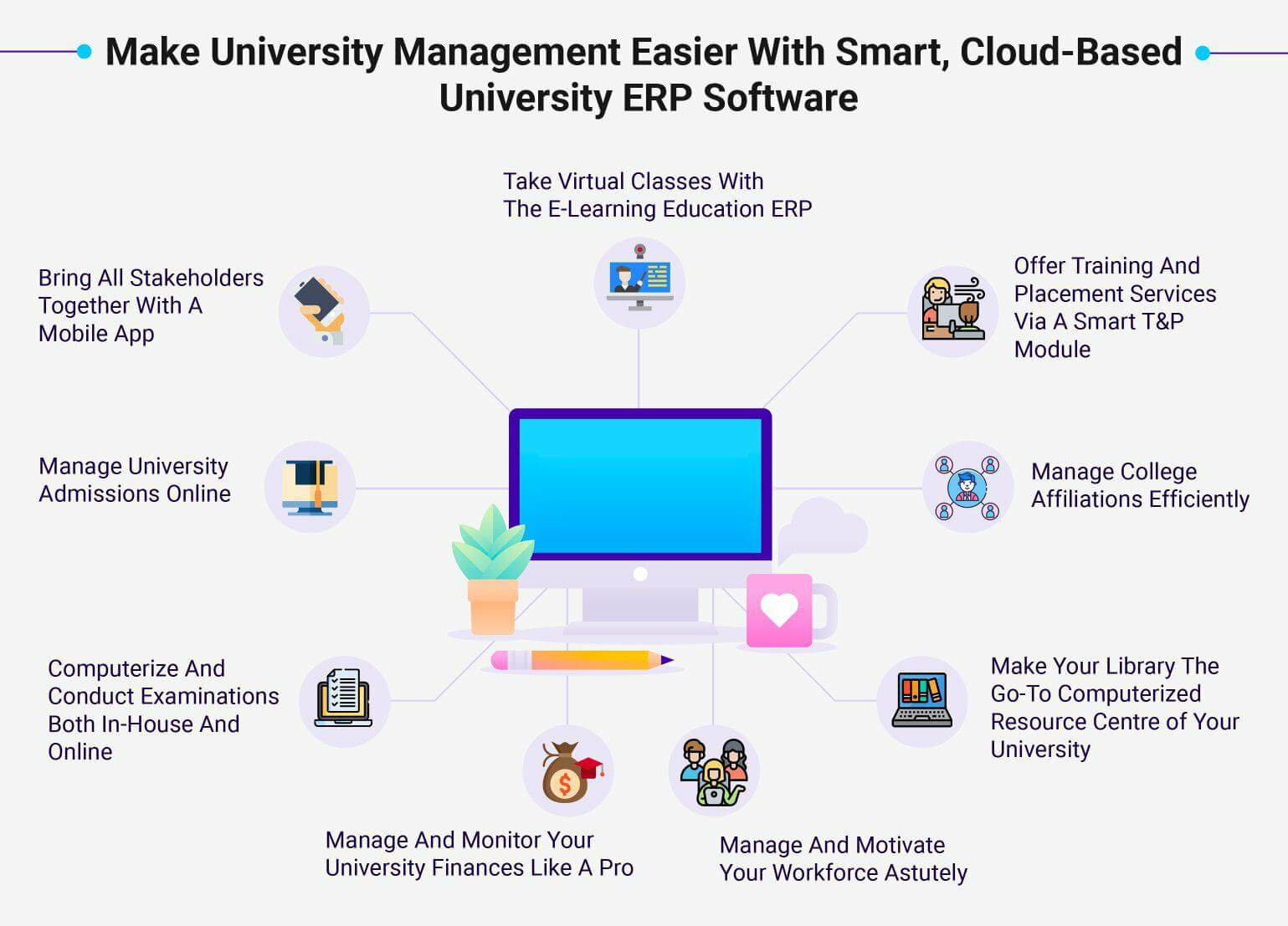 Manage college affiliations efficiently: An ERP system for universities would be incomplete without a robust module on college affiliations. This module would allow for applications by new colleges for affiliation, renewal of affiliation, uploading of documents and details by colleges, registration of existing colleges and sending of notifications by the University to colleges.
Manage University admissions online: From a reputed University Admissions ERP you can expect a provision for clear and speedy online applications on the University portal, generation of merit lists by the system and final admission to the college. This transparent and convenient online admission module also updates students on the status of their application and manages enquiries efficiently 24/7, so you can meet your admissions targets effortlessly.
Computerize and conduct examinations both in-house and online: An error-free, stable tool to manage examinations is the University Examination Management system, which would help you conduct both in-house and online examinations in a hassle-free atmosphere. The system can handle voluminous data and is flexible and configurable. It can define multiple parameters in accordance with University rules: academic session, schemes, faculty, medium, examination pattern, courses, subjects, subject grouping, exam ordinances, grace and condonation rules and more.
Manage and monitor your University finances like a pro: An intelligent and reliable Finance module can be linked to other modules such as the online fee payment module, stores, hostels, payroll modules and entries. Sub-modules can be created to manage financial data in the minutest details. And the most amazing feature of the financial management system is the generation of fee reports – daily collection reports, monthly collection reports, summary fees report, outstanding fees, demand creation, bank wise DD collection report, etc. to help you see the big picture and also drill down to the details if you have a doubt.
Manage and motivate your workforce astutely: The Human Resource Management System in your ERP allows for astute handling of all human resource-related matters – from payroll management and recruitment of faculty in a transparent and equitable manner to a detailed service book. This software will help you deal with staff recruitment, administration, and training and leave management online, in a glitch-free, fair and humane computerized process, saving you time and preventing conflict.
Make your library the go-to computerized resource centre of your university: The library ERP can manage tedious and repetitive tasks of library management such as purchase, accessioning and payment of books, cataloguing and unique serial number identification through RFID feature. A sophisticated library management system would also include an Online Public Access Catalogue. Your students will love frequenting the library and you can expect learning outcomes to skyrocket with this system.
Bring all stakeholders together with a mobile app: A Mobile-friendly app allows parents and students to view personal information, fee updates, class and exam time table, attendance reports, library issue-return details, exam results, etc and helps students get their doubts solved by the faculty. Your university can expect to save on SMS and postage/courier/stationary costs as the push-notification feature enables administrators to send messages and important information free of cost to students and parents.
Offer training and placement services via a smart T&P module: Some ERPs offer a T&P module which comprises a student and company database. The module allows students to update their bio-data, invites companies for placement, provides student lists to companies based on their selection criteria, facilitates interviews, announces selected student list, announces seminars and workshops and sends email or SMS alerts and notices.
Take virtual classes with the e-learning education erp: With a rich set of tools and resources and the possibility to take online tests, a virtual class platform for real time audio-video communication, assignment sharing, e-library facilities, a virtual board for notices, a discussion forum, and much more, this is the ideal module to enhance collaboration and ensure that learning continues beyond the four walls of the classroom.
The benefits of investing in advanced erp software for your University are significant. Underlying all modules of an elaborate University erp are features that render an already efficient erp even more leading-edge. The Education Management System helps track student and faculty data and manage the distribution and allocation of educational resources. The BI-powered analytics dashboards generate accurate graphical or pictorial reports at all levels and for all departments, helping the University management in taking timely, informed decisions. Cloud servers are cost-effective since their maintenance is the responsibility of the vendor. They also provide a centralized database and data security with several layers of encryption. Finally, every module is linked to the system, allowing it to upload or extract crucial data as and when required.
If you wish to create a top-notch University that can compete with the best in the world, you need to look into more than the quality of the faculty and the curricula on offer. How you manage the University also reflects on your priorities as a senior educationist. By adopting a smart Student Management System and an ERP that makes University management easier, you are freeing up time and resources and giving your students the most precious gift of all – the undivided attention of their educators!