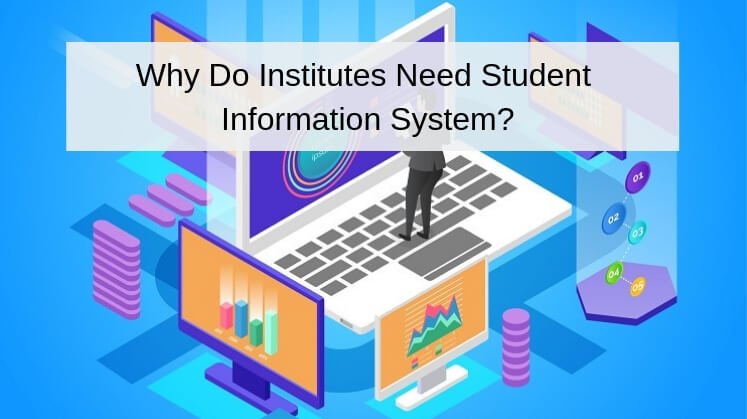 In this age of digitalization does your institute still store students information manually?
With advancement in technology, it is imperative for institutes to upgrade their old systems to stay ahead and provide students a better schooling experience. There are many cons of saving information manually and there is an easy way out - Student Information System.
Student information management system is basically used to store, organize and analyze large amounts of data like enrollment, attendance, results of examinations timetable and other useful data about the student in one place. This is easily accessible to teachers, parents, and students.
There are various reasons why you should change your outdated systems for SIS and a few of them are listed below:
Increased efficiency
Since with an SIS the entire process is online, most of the activities are carried out automatically which in turn saves a lot of manpower and resources of the school administration. These resources can be better utilized in driving the students' progress and achieve improved student outcomes. Simply put, an SIS makes every stakeholder's job easier and less stressful.
Another benefit of this system is that it saves time considerably. Important information on a particular pupil can be retrieved in a just a few clicks whereas, when done manually the same task requires a lot of time and proves to be a tedious task.
Improved understanding of students
The student data management system manages key information regarding tests, timetables, attendance, homework, etc. which is required in schools on a daily basis. Additionally, various reports can be generated instantly which can be used to analyze the performance of students.
This helps teachers to assess each student with a better understanding and figure out exactly what issues they face. This not only leads to improved student-teacher relations and better student outcomes but also enables teachers to serve students better.
Parental involvement
Parents are increasingly becoming more involved in their child's academic performance and like to know about what their wards do in school. They want to interact with teachers to discuss their ward and how they can collaborate with the schools and teachers to improve their child's performance.
SIS bridges the gap between the schools and parents by connecting them. Parents can collaborate with teachers and ensure that their child manages school work properly at home, thereby making it a smooth schooling experience for them.
Security
Most SIS are entirely cloud-based and the information is stored on a highly secure, central platform which was not the case when the information was kept as hard copies.
Accessing information on cloud requires login credentials and hence only authorized people can access key information. Moreover, the amount and kind of data available to a particular user is based on his role in the institution's hierarchy which provides an additional layer of security.
Furthermore, multiple backups ensure that the student information as well as academic/administrative data is never lost. On the contrary, the data stored as physical copies once destroyed are gone forever.
Hence a student data management system is highly reliable and secure.
Inter-connectivity between departments
Wouldn't it be great if teachers of different subjects could provide a comprehensive report of the student's academic performance without leaving their offices.
Integrated ERP enables data to flow smoothly from one module to the other without any delays or hassle. For instance, the students data from the admissions module can be easily shared with the hostel department. This not only saves manual data entry work and reduces data redundancy but also eases everyone's job.
Such systems can be deployed to give teachers and students an extensive view of their performance and find the areas in which they lag behind. Additionally, with the insights gained from SIS you can find out if the corrective measures you have applied are working or not.
In a nutshell, schools, colleges and Universities need a student information system to keep pace with rapid evolvements in the education industry, gain insights of everything happening in their campus, manage all the processes smoothly and without hassles, improve efficiency of everyone, and to drive student progress.
Schedule a free DEMO to find out more about student information management system.