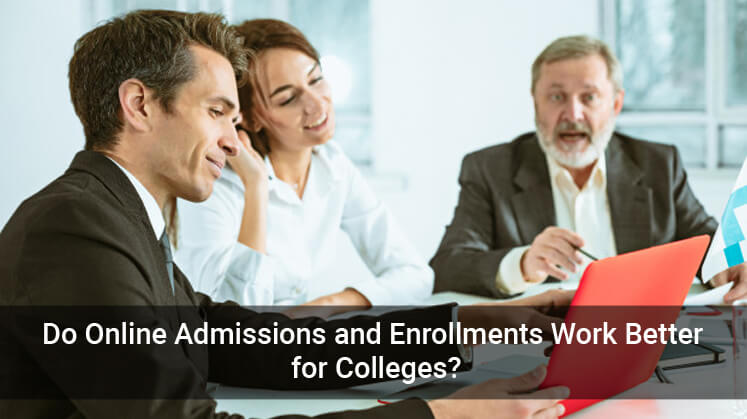 "Do the best you can until you know better. Then when you know better, do better."- Maya Angelou, American poet, memoirist, and civil rights activist.
Your college must have done its best to streamline the admission and student enrollment process when admissions were an "in-person" affair. This was the age of ink pads, typewriters, long queues, anxious students, nervous freshers, reams of paper, irate clerks and peons, and stern "one at a time, please" rebukes. With computers and printed receipts, both students and administrative staff heaved a sigh of relief! True, servers crashed and printers blocked up, but this was the best you could do then. Some of you may have switched to e-admissions – a gift of the internet age. Some continued to trudge down the traditional path, comfortable with the status quo, ink pads, paper forms et al. Covid-19 has forced a rethink on what works and what does not work. As for what works BETTER, having experienced both the traditional and the modern online system, you are well placed to be the judge.
Here is why I feel online admissions systems work way better than offline, in-person admissions:
An effective shield against viruses
The online admissions college erp can do more to protect you from deadly viruses than any mask, sanitizer or social distancing precaution. Unlike the traditional system, it keeps you away from queues and crowds altogether. It scores 10 out of 10 here.
An "equal opportunity" system
College and school erp software for admissions is neutral throughout the process. There can be no accusations of corruption, nepotism or manipulation of merit lists as the software only selects eligible candidates, generates merit lists and manages reservations based on criteria pre-determined by competent authorities or the government.
More time and cost-effective
This unique educational erp solution is brilliant when it comes to time and money management. It works tirelessly 24/7, never shutting shop in case your students wish to upload their application at 2 a.m. It saves paper and postage material. It also frees up employees, who would otherwise be compelled to spend days updating information, managing crowds, arranging papers, classifying application forms, handling cash (fees), posting merit lists, etc.
Serves the handicapped better
If your college is serious about student retention, it needs to be accommodative of all needs. Few physical spaces in India are disabled-friendly. For the visually or physically-handicapped, applying for admissions from the comfort of one's home or getting a near one to help without having to navigate crowded spaces and treacherous staircases is a boon. For the geographically handicapped too, online admissions software can reach them wherever they live on the planet. Truly a blessing!
Student-friendly
From the enquiry counter to the bored-looking peon to the intimidating security guard, students didn't have it easy when they applied for admissions. With some honorable exceptions, in most educational institutions the admission process was perceived as unpleasant, lengthy, anxiety-ridden and confusing. From online enquiry and lead management software to dashboards that post real time updates, user-friendly software interfaces, e-applications that are easy to complete and provisions for attachments and uploads – erp for universities and colleges have changed the way students are received and treated.
A powerful multi-tasker
Advanced e-admissions systems are capable of allowing many students to log-in concurrently, without bringing the system crashing down. This powerful feature that permits multiple registrations and logins at a time makes online admissions and enrollments capable of very speedy and efficient processing of admissions. This reduces the waiting period for merit list generation significantly and waiting in queues "one at a time" is history!
Read More: Why The Education Sector Is Opting For Paperless Solutions?
Paperless
Who can afford to ignore the carbon footprints that traditional paper-based admissions systems left behind! Online is synonymous with paperless, saving trees, the environment and the ozone layer. Definitely the smarter, more ecological way to go.
More secure
Online is also more secure. Why? Because physical copies of students' profiles and applications can easily be manipulated, tampered with, stolen, misplaced, damaged, reduced to ashes in case of a fire. A reputed, experienced school management erp vendor will ensure that all access to sensitive data is password protected and role-based, and that data is securely stored on a centralized database with multiple layers of encryption. With so many safeguards, your most vulnerable data is immune from hackers and your data privacy is maintained.
Scalable
Here is one more excellent reason why I feel online admissions systems are several notches above traditional ones. As the number of students seeking admission increases, colleges are hard put to deploy the manpower and resources to process all applications within a compact time frame. Universities, schools and colleges may wish to expand, bringing new institutions and campuses under their wing. Online admissions software can scale up easily, making expansion of Multi Academy Trusts effortless and cost-effective.
Seamless integrations
Most admissions software now comes integrated with advanced online fee collection software. Moving from enquiry to admission to fee payment is a glitch-free process. Likewise, data from the enrollment software can be smoothly transferred to and from a SIMS for use in other operations or for data analysis and reporting. On the other hand, the traditional system often reflected a total disconnect amongst different departments, adding to the misery and despair of students navigating the system.
Smart online admissions software will keep you safe from Covid-19, while saving your time, money, resources and energies for a wiser, kinder post-Covid 19 era. You know better now so you can do better.