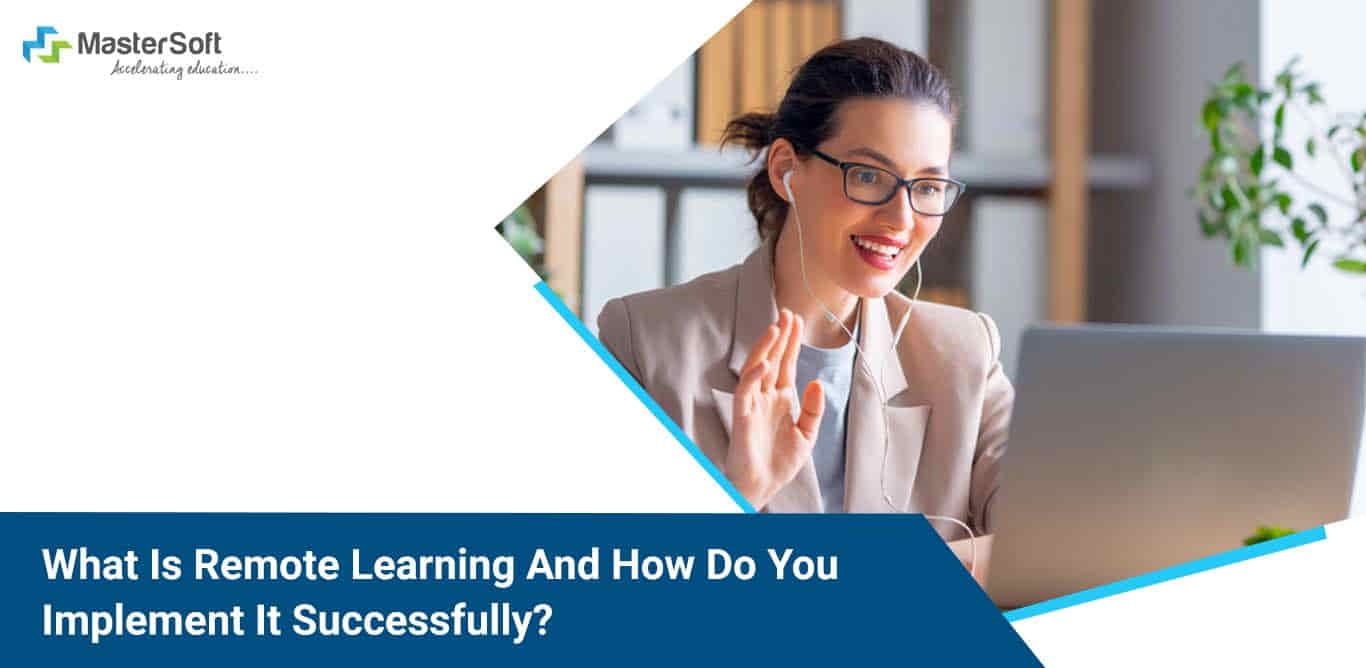 Updated On |
28

, July 2021
You might be one of the millions that are "working remotely".
But, when it comes to "learning remotely" you may ask –
"What is remote learning?"
"Is it similar to distance learning?"
Well, to begin with, remote learning is a form of distance learning where a learner gets the provision to learn in a virtual educational setup rather than the traditional physical classrooms. However, there's a thin line that differentiates remote learning from distance learning. This blog will help you understand in detail -
What is Remote Learning?
Remote learning is a way of learning that doesn't involve the presence of four walls physical classrooms. Instead, remote learning utilizes edTech tools that facilitate a virtual classroom setup where teachers can deliver their daily lectures and conduct online exams and enhance students' progress effectively.
The crux is remote learning creates exactly the same environment virtually that a traditional classroom offers. In fact, with the help of digitized ERP solutions, remote learning can be made more engaging, interesting, and interactive.
Example of Remote Learning
Being a faculty, if you wish to conduct remote learning effectively, you can create a syllabus & assignments that encourage students to understand the concepts in detail.
For instance, if you need to teach a history lesson to students, you may –
Compile e-content relevant to the topic
Create a questionnaire that encourages students to learn more
Prepare short quizzes to make the teaching session interactive
Ask students to share their thoughts on an online forum
Share your feedback for helping students
You may also assign a project to help students gain practical knowledge about a particular topic. Project based learning can multiply the benefits of remote education.
Difference between Remote Learning & Distance Learning
Technically, there's no difference between distance learning & remote learning in education. However, when it comes to the core nature of the two-
A learner may opt for distance learning along with a part-time job
Remote learning can be treated as a regular classroom setup
Just like traditional classrooms, students can pursue remote teaching & learning classes and study full time which is not the case with distance learning. In distance learning, there may not be a compulsion for the students to daily connect to the ongoing classes. They may or may not attend classes depending on their work schedule. However, they need to study equally hard to acquire a skill or certification. There's no compromise in the quality of education in both cases. The major difference reflects in the flexibility given to the learner.
How Can You Implement Remote Learning Successfully?
As a faculty or educator, I suggest you carefully go through the given steps to ensure successful implementation of remote teaching & learning setup in your educational institution.
Step #1: Understand the Core Requirements of your Institution
Understanding & analyzing the core requirements of your institution will pave a smooth way for 100% successful & hassle-free implementation of remote learning setup. You just need to discuss with the faculty what needs to be incorporated to create a positive impact on students learning journey and then start researching about the edTech tools that could meet your expectations.
Step #2: Opt for an Engaging Learning Management System
A learning management system or LMS software is the best educational ERP solution to facilitate interactive online classes along with helping the faculty to conduct other routine tasks. Therefore, while you research various ERP products available in the market, always try to opt for a comprehensive cloud based learning management system.
Step #3: Configure the Learning Management System Properly
A learning management system that is embedded with the following features can be a game-changer for your institution.
Mobile-friendliness
Easy-to-use interface
E-content access provision
Online assessments & exams
Student information management
Data security provision
Auto-evaluation of online tests & feedback mechanism
To configure the system as per your requirements. Don't choose campus ERP solutions that aren't configurable.
Step #4: Take Demo sessions of ERP before making it Live
The demo session may not seem important but it certainly is!
It allows you to get a preview of the features of the e-learning software. If you feel changes are required, you can convey them to the vendor and save yourself from long-term trouble.
Therefore, once you ask the educational ERP vendor to configure the LMS system as per your needs, you must arrange a demo session of the same. Do check it properly before making the final decision.
Step #5: Continuously Evaluate the Impact of the LMS
Continuous evaluation of the LMS software is undoubtedly a smart move. It will ensure that the remote learning software works properly to provide the expected results.
If the software doesn't give desired results, you may consider speaking to the educational ERP service provider for new configurations in the ERP solution to make it impactful.
Advantages of Remote Education over Traditional Education
In a nutshell, remote education offers the given advantages of traditional education –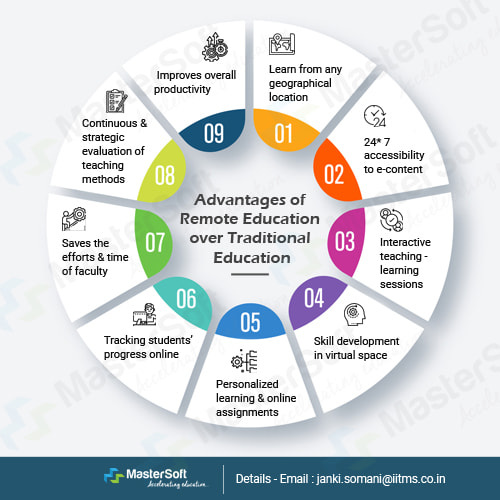 Learn from any geographical location
24* 7 accessibility to e-content
Interactive teaching-learning sessions
Skill development in virtual space
Personalized learning & online assignments
Tracking students' progress online
Saves the efforts & time of faculty
Continuous & strategic evaluation of teaching methods
Improves overall productivity
What Makes MasterSoft the Best Choice for Implementing Remote Teaching-Learning Setup?
MasterSoft ERP is the leading educational ERP provider in India. With a track record of serving 2000+ institutions with a 99% client satisfaction rate, the MasterSoft team has proven the credibility of its ERP offerings in the market.
By choosing MasterSoft's Learning Management System, you can be assured of –
Quality of the educational ERP system
Configurable system with mobile-friendly setup
Mapping & enhancing students' performance
Complete student information management
Data security with highly secure cloud server
Cost-effectiveness of the ERP solutions
Additionally, you can contact the team of MasterSoft's ERP professionals at any given point in time for assistance. Being the largest & oldest ERP provider, MasterSoft offers personalized tools that would specifically help your institution to overcome the challenges that you might be facing. To make the solution more impactful, you may also configure modules such as – online admission and fees management system.
Need assistance?
Contact our team at the earliest for the best edTech tools!
Our contact details –
Email: janki.somani@iitms.co.in
Mobile: 08448010216
You can also check-out our Facebook group for more informative & interesting content.