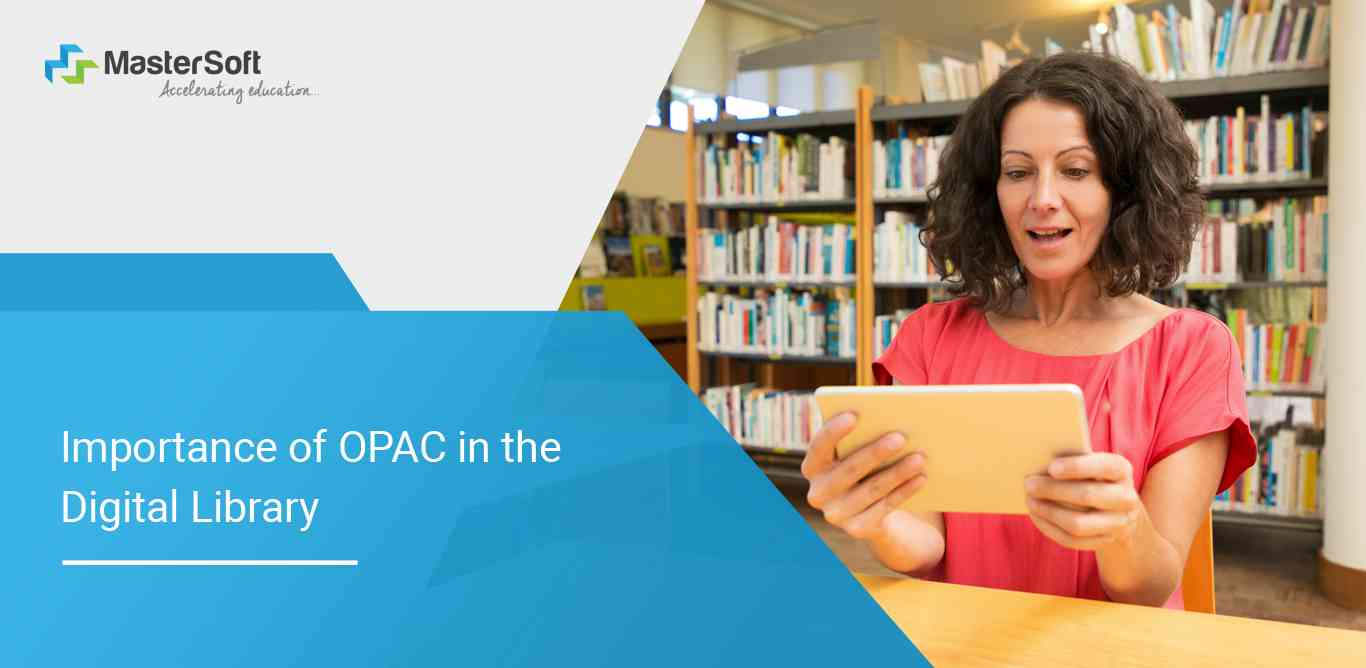 There's a famous adage – "Books are our best friends."
Well, there's no doubt about it.
They certainly are!
Many researchers have even proven that books possess a significant power that can impact young minds in a positive way & help them develop great skills. This is probably why all top-notch educators pay extra attention when it comes to libraries!
However, maintaining a library manually can be a daunting task for the librarian & assistant staff members. Right from managing the stock to upgrading it, library catalogue management, circulation, issuing books, keeping a tab on the due date, late fee collection, and a lot more, the routine work of librarians is hectic and mentally draining.
OPACs play a major role in preservation of access to library collections and maintaining the books. It enables the libraries to give consistent and authoritative forms of bibliographic control to the users and gives a targeted information environment for specific clients.
Keeping in mind the present situation of the pandemic, the best solution for library management is the creation of a digital library with the implementation of library software. With a digital library management solution, the processes can be automated, streamlined & managed with ease.
Speaking of students' perspective, the online book search process can be furthermore simplified with the provision of OPAC – Open Public Access Catalogue.
Before I explain to you the benefits & importance of OPAC in a digital library, let's first understand what OPAC is…
What is OPAC?
OPAC stands for "Open Public Access Catalogue".
The online public access catalogue depicts the online library database of resources like books, journals, newspapers, e-books, etc. The students can get access to any books as well as e-content from anywhere & at any time with the OPAC.
All they need is to search for keywords such as – name of the book, title, author's name, volume number, and much more.
Thus, OPAC can contribute to students' success in the long run by helping them carry on their e-learning journey seamlessly!
What is the Purpose of OPAC?
The purpose of OPAC or the Online Public Access Catalogue to make the digital resources search faster & easier for the students by offering a digital library catalogue.
Students just need good internet connectivity & log-in ID to get started with the OPAC!
They can identify the number of copies left in the library, its location, and such crucial information and then visit the library to get the books. For e-books, they can directly get information & access it at any point in time.
Benefits & Importance of OPAC in the Digital Library
Now that you've understood the functionality of the OPAC, let's understand the benefits & importance of OPAC in the digital library.
#1: Extremely Simple-to-use Software for Improved Efficiency
'I am not tech-savvy, how can I use OPAC?'
This is the first & foremost doubt that intimidates every faculty as well as students.
It's quite natural that not everyone is tech-savvy. One may not feel comfortable rather feel nervous while using the OPAC integrated library management software.
Howbeit, there's no need to worry as there is a plethora of library ERP solutions that are built keeping in mind this fact and are extremely user-friendly.
With basic training, anyone can use the library software and search books via the OPAC.
#2: Better Productivity & Proper Management of Books
The OPAC software enables the librarians to catalog different genres of books and maintain its database online.
It allows users to search books on parameters such as title, author's name, volume, and keywords with mere clicks.
Unlike traditional working patterns, students & faculty don't need to manually search the books. The library management system automates everything and literally makes the operations efficient & faster. With such benefits & ease of doing daily work, the library software fosters better library management.
#3: Accurate Reports to Track the ins-and-outs of Library
Library software integrated with the OPAC is not just helpful for librarians & students but it's highly beneficial for educators as well.
It's the responsibility of educators to keep track of everything that goes on in their institution.
Monitoring daily activities aid them with information such as areas that need improvement & key performance indicators.
Whenever, an educator needs reports regarding the library, for instance, if they want to know the number of students that actively use the OPAC and other digital library functionalities, they'll ask for reports from the librarian. The librarian will have to evaluate all the data for finding out the required information which will consume a considerable amount of time.
With a library ERP solution integrated with an analytics dashboard, the librarian can generate all the required reports with high accuracy that too with just a few clicks of a button!
Library Management System Software

How to Use OPAC? | Steps to Follow
Whether you are a student or a faculty in search of a book, here's how you can use the OPAC integrated into the digital library software.
Step #1:Log in to the digital library portal with credentials.
Step #2:Try to enter keywords such as – Title/Author/Subject/Version and so on to search for the required book
Step #3:Check the result you get and if you still don't find the required book then start entering some other keyword.
Step #4:When you get the correct book result, then note down the information and check the number of copies left along with its location in the library.
Step #5:With the help of acquired information, check out the book in the library & issue it.
To sum up
All in all, a library management system with OPAC can prove to be a catalyst that can boost efficiency, productivity, and institutional growth in the long run.
A digital library setup can help in accelerating the online learning journey.
Therefore, educators must contact an experienced, renowned ERP provider & invest in the best library management software. This step may end up being the game-changer for educational institutions!
For more details on library software, Get in touch with my team today!
FAQ's On Online Public Access Catalog (OPAC)

OPAC also known as Online Public Access Catalogue is an online database library books, magazines, e- books or group of libraries combined.
To use OPAC, the student has to go to the library link online and then click on OPAC.

The students are given credentials to access the library system which can be used.

Students can search books using keywords like names, authors, and genres.

The search will give information of book's location in the library.

The students can use its features of reserve and borrow for further operations