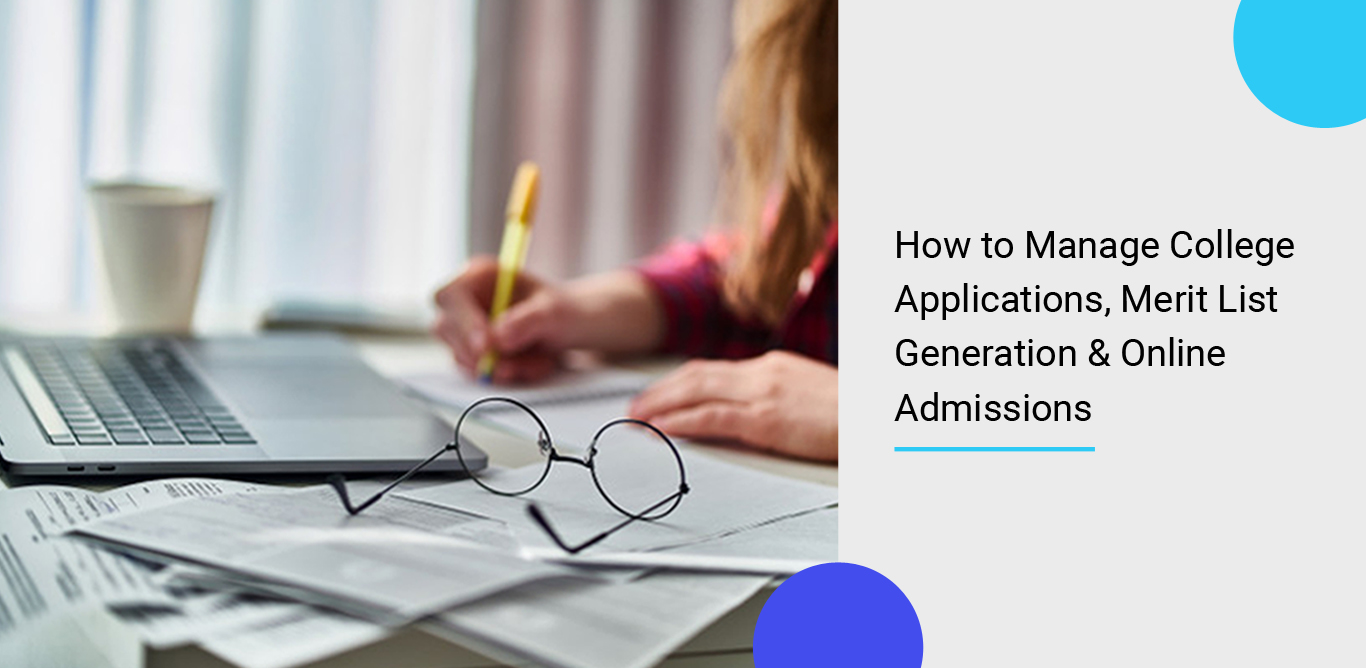 Accessibility & awareness of internet & mobile phones have increased the reach, now students can search and find colleges, apply online & get accepted all in the remote. During Covid, Online Admissions through the online application process has been the greatest support & convenience for Colleges.
The digital landscape has become a secure go-to operating space for institutions, not only for Online Admissions but also as they serve as the core building block for successful academic records of institutions.
When it comes to colleges who've been managing their college applications & admission procedure manually for years- the concept of online admissions & using a college management system may sound daunting- initially.
If you belong to the category of institutions that are planning to implement an education ERP software to conduct online admissions, this article will serve you as a simple guide that would ensure 100% successful implementation, and a checklist for using forms or Admission Software for your institution.
Let's begin by understanding what online admission software is and how it can be beneficial for institutions like you...
Online College Admission Software
Online college admission software is an automation system that simplifies, streamlines, and automates the online admission process for colleges – right from receiving admission inquiries to college admission application processing, documentation verification, merit list generation to final admission. The student information system (SIS system) for college enables the faculty & staff to store, access, compile, and analyze all admission-related data of students at a centralized location. It makes the entire journey hassle-free & paperless.
College Admission Process – Digital Way
In any institution, the entire college admission process takes place in the following three phases.
Pre-admission Phase
Admission
Post-admission Phase
Agree?
So, now let's understand how the college ERP software with an online college admission system can help you achieve the best results in all three phases.
Simplifying the Pre-Admission Journey
If you have a website for your college, you'd understand how the scenario of inquiries has changed over the years. Earlier, parents & students used to call the college faculty & staff for enquiring about the admission process, where they can get the admission forms of colleges, when is the last date of college admission, fee structure, and so on.
It used to consume effort, time, and huge energy of the staff.
And to be honest, inquiries never stop. They don't have any season. Sure, during the college admission season, they are on a high but even during the year, they keep coming from various regions.
For several years, telephonic inquiries have fallen short. Now, most students and parents prefer websites and various social media channels such as Facebook & LinkedIn.
It goes without saying that you need to have a strong digital presence to make a positive impact, right?
So, coming to the point, to receive genuine inquiries, respond to them, and even target prospects from websites and various social media channels, a lead management module can sort it all for you!
A lead management system integrated with the college management system helps you to actively get new leads for college admissions, keep a tab on students' inquiries, and track the number of college admission applications. The inbuilt dashboard can even guide you on how to promote your college using various platforms by analyzing the received information. It may boost your college enrollment ratio during the next admission season!
Admission Process
The admission process starts with student online registration.
Okay, let me give you a quick view of the steps involved and then, I will explain how the education ERP software would help.
#1: Online Registration
#2: College Application Form & Documents Verification
#3: Online Registration Fees Payment
#4: Merit List Generation
#5: Final Admission of Students
The online platform minimizes the complexity of a manual Admissions Process to a great extent. It's nothing like the manual way of managing the admissions, it invariably limits manual work in the Admission Process and is more transparent & easy during working hours.
Configurable College Application Forms: Colleges float Online Application form on website & other channels, these forms are designed to suffice the merit list criterion of colleges. All the necessary fields needed for effective student database management are added and a custom form is created.
Application Mode: Students can apply Online through Mobile Phones & Desktops and pay the configured registration fees. Kindly, ensure that the forms are mobile responsive for a better student experience & smoother transactions.
Student Database/Information Management: With the college ERP software, all details, documents & undertakings can be taken from students via the Online Application Form, the students can upload their admission forms online & simultaneously the staff can receive the applications at a centralized platform.
Merit List Generation: The staff can define the rules of admissions by deciding eligibility criteria and then apply and set filters for Merit List Generation and shortlist candidates.MasterSoft offers a highly advanced Merit List Generation Engine with all the necessary filtration criteria accommodated.
Admission Fee Collection: Once the Merit List is generated & published, the fees Collection can begin based on the Merit List Generated by the System. Automatically demand is created for the eligible students & Fees can be paid. Online through various channels, UPI, Credit Card, Debit Card, etc. Fees paid online get settled directly into the College Account.
Real-Time Application Status: Admissions Committee can get a real-time view of the Application & Admission Status. They can download various reports to understand different statuses. Every evening, auto-triggered reports can be sent to departmental/college heads regarding fees & admission status.
Important Points to Keep in Mind While Choosing a Payment Gateway
Ensure that you choose a secure payment gateway, with good experience in managing heavy rush with a server to server integration with your College ERP provider. MasterSoft integrates with Payment Gateways that follow the norms of RBI & are secure to ensure extreme security & smooth transactions for students. Online Transactions are secure & student-friendly.
Speaking of students, they don't need to-
1) Stand in queues for collecting college admission forms
2) Visit colleges for confirming the admission status
3) Pay the college fees online with a few clicks, no need for carrying Cash/Cheque!
You can conduct & map the online admission journey at every step just like that!
Post-Admission Process
One lingering query you may have could be –
"How the online admission software would help the post-admission journey?"
Well, even after the student gets admitted to the college, you need to allocate them an appropriate batch as per their choice of subjects. Your faculty would need to create timetables & schedules to manage them, keep a tab on students' performance, and keep improving your teaching-learning strategies.
A college management system with a learning management system, e-learning modules such as timetable management, AI-powered analytics dashboard, virtual classrooms, etc can add fuel to your success journey!
Therefore, choose robust & configurable college ERP software that can manage everything for you!
For further queries about online admission software, let's get in touch!
I'll connect you to the best & highly experienced ERP professionals for resolving your doubts!