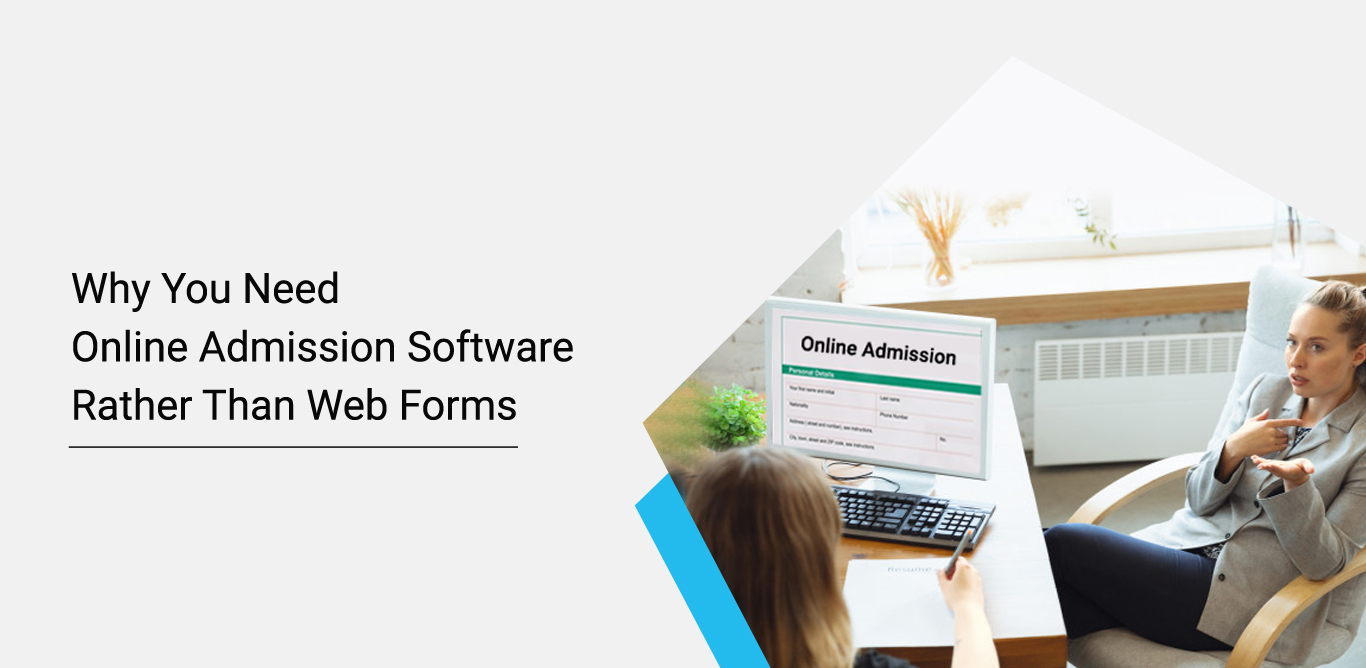 "Web forms" are omnipresent!
Not kidding! I am serious.
A few years back web forms were created to extract information of the visitors on various sorts of websites. The visitors' data were collected whenever they asked any query or wanted to get in touch.
Looking upon the popularity and response rates of visitors, even educational institutions like schools, colleges, and universities began following the trend. It has become a common practice to have web forms to get information about potential prospects - students, parents, or any other stakeholders.
I won't say that having a web form is a bad idea as it offers the following advantages –
Cheaper option
Faster way of collecting information
Tailor-made
Simple data entry
However, when it comes to school admissions or college admissions, having that traditional web form may not be your best bet!
Here's why you need online admission software rather than web forms...
Reason #1: Online Registration & Fees Management
Asking your students to fill the online registration form is possible with a web form.
Asking the students to ask their admission related queries is also possible within the realm of web forms.
But a web form can't give you the provision of secure online fees management.
This is the biggest reason why you must have an online college admission system or school admission portal depending on the type of institute you run. It will not only allow the students to upload their documents online but also pay the fees hassle-free at the click of a button via net banking.
Reason #2: Convenient Student Information System
You may collect a multitude of student information via a web form but compiling the information and utilizing it for the decision-making process will take you countless hours.
Agree?
This is where an online admission portal can prove to be a SMART choice!
It gives you the facility to store, compile, and manage the online admission data at a centralized location. Your faculty and staff can extract any information, at any given point in time just by login into the school or college ERP software.
Well, some institutes may disagree with the statement and say that it's not a burdensome task for them to manage the data of their institution. They have dedicated resources that handle the student database.
Okay, tell me, what about – "Multi Academy Trusts"?
If you are already a part of MAT or planning to have multiple branches of your institution, then imagine the amount of data that you will have to segregate. As I said – an online admission system is undoubtedly the smart choice.
Reason #3: Filtering the Data as per Requirements
If your faculty or staff needs to prepare a merit list based on eligibility criteria like –
Grade obtained in the exam
Student's caste
Category
Sports quota
Scholarship quota
Well, diving into the web forms is clearly not a viable solution when you need to filter out thousands of applications and shortlist the best students. A college admission or school admission software can sort out your problem by analyzing and evaluating the students' applications. Therefore, here also an online admission management system is a win-win.
Reason #4: Build Strong Teacher-Student Relationship
The student admission process doesn't end with student admission.
Okay, that sounds confusing.
Let me put it in this way – when a student enrolls in your institution, his/her journey doesn't end there and then, it begins with the admission finalization but continues even after the graduation when they become your alumni.
In short, the teacher-student relationship is ever-lasting. There's no end to it.
However, to keep in touch with your alumni students, a web form won't be much helpful.
You must opt for college ERP software with alumni management system integration. It will help you stay updated with the information about your existing as well as alumni batch students. You can further arrange webinars and guest lectures to help your students get more insights and lay a strong foundation for their career.
Read More: Best Tips To Improve Your Institute's Website To Drive Online Registration & Admission
To Sum Up
Font size, design, information fields – you get the authority to create web forms as well as configure your online admission system. However, web forms won't give you the power to compile, store, and filter out the required student information with a few clicks.
This is why, I would recommend schools, colleges, and universities to discontinue the web forms or just keep them for the sake of collecting inquiries. Implementing online admission software can work wonders and multiply your institutional effectiveness the way I have mentioned.
Let's get connected over a virtual call to know more benefits of the online college admission system and school software!