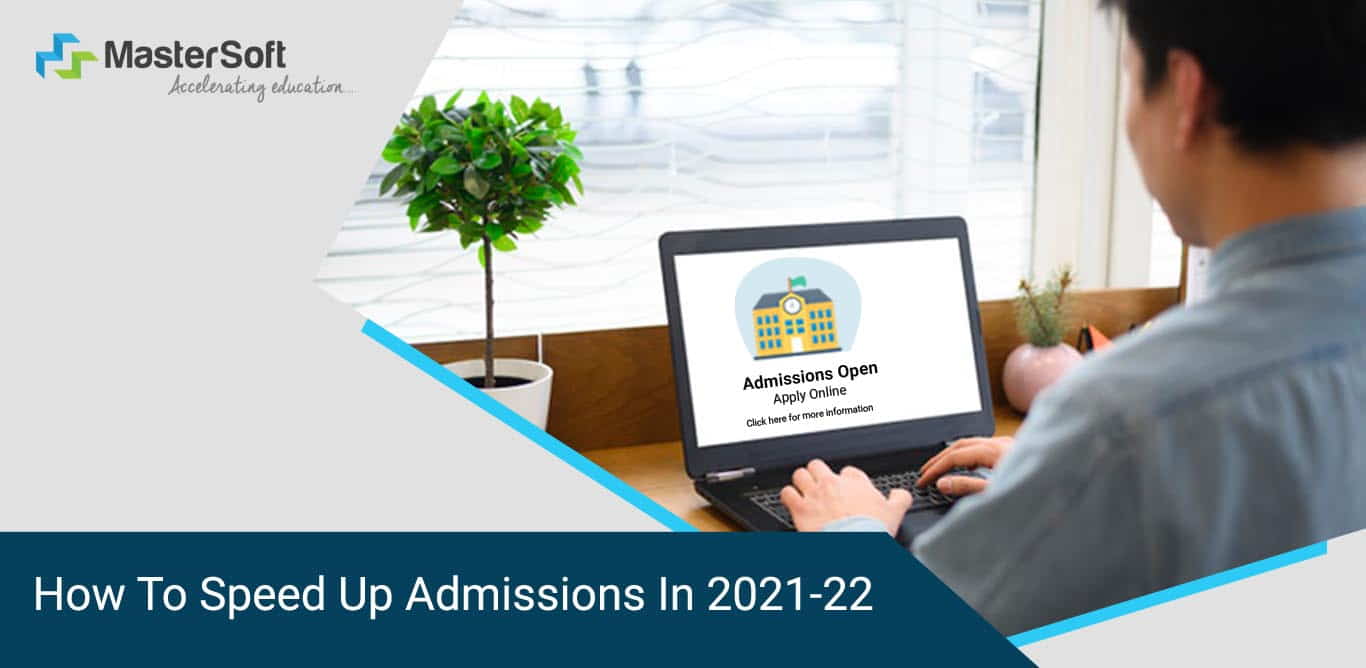 "Speed has become an important element of strategy" – Regis McKenna
Does your institution have a well-defined strategy to combat the Pandemic?
And is the "speedy online admission process" a part of that strategy?
If not, it should be, because your competitors are coming out all guns blazing with innovative responses to the "social distancing" mandate.
E-learning software implementation, digital school fee payments, proctored online examination systems, mobile apps, library management software, online admission management system – These are the trending edTech tools that you must be looking after in 2021 & 2022.
As an educator, you will agree that there is an emergent need to reinvent the admissions process BEFORE investing in any other education ERP tool. After all, you wouldn't want your institution to have elaborated e-learning software or a state-of-the-art library management system, but empty virtual classrooms and libraries!
A couple of years back, the process of admissions was sorted. Parents and students forming queues and discussing the best study streams and course options to choose from! Institutions were attracting crowds; admission fee payments helped them keep the balance sheet looking good.
The year 2020 changed everything!
The spread of Covid in 2020 that has continued in 2021 has slowed down the entire process of education.
In such a situation, a smart & efficient online admission system for colleges can help you speed up the admission process.
Best Tips to Speed Up Online Admissions In 2021-22 With Online Admission Software
As an educator, choose a cloud-based online admission software that would give you the following provisions & speed up the online admission process for 2021-22.
#1: 24/7 Online Admission Provision
A cloud-based online college admission system works 24/7, processing admissions tirelessly so that your selection/merit lists are generated and published much earlier. Often students apply to several institutions simultaneously.
They are most likely to accept the offer letter from an institution with the best response time.
#2: No Geographical Boundaries
Previously, one of the major causes of delays in the processing of college applications was the paperwork and time taken to post application forms. Today, students can fill up the forms and submit them at their convenience, from the comfort of their homes, thanks to online admissions for colleges.
Releasing students from those long, tiring and stressful queues encourages many more students to apply, faster!
#3: User-friendly System
With user-friendly online admission software, online applications can be filled in quickly and effortlessly.
Also, students are not kept in the dark with regard to their admission status. The educational ERP system updates the candidate in real-time whenever there is any change in status. Thus, when you adopt efficient software, your reputation as an efficient and alert institution that treats candidates with respect is established.
#4: Reservations & Scholarship Considerations
Another pain point for many college administrators is the accurate calculation of seats to be reserved as per Government of India norms. Choose an online admission management software system that is capable of doing reservation calculations based on Government-established rules, saving your staff's effort and time which you can utilize for other crucial activities.
Along with reservations, it can take care of the scholarship considerations based on Caste/Religion/Community.
#5: Multiple Registrations at a Time
Multiple students can log in simultaneously since online admissions software allows for multiple connections and registrations at a time. Choose the ERP system that is powerful & robust enough to handle a large number of student logins concurrently, without slowing down the online admission process for colleges.
You must also look for integration with online fee payments to simplify the registrations.
How MasterSoft's Online Admission Software Can Be a Game-Changer for Your Institution?
Covid -19 calls for astute thinking today!
You may not have enough students who have expressed interest in your institution (or in any institution for that matter). Those who have but are wavering, due to the uncertainty of the pandemic, need to be kept in the admissions loop. This is why speed matters in admissions. This is where MasterSoft's college management system can ease the strain on your administrators and speed up admissions in the years 2021-22.
MasterSoft's online admission software offers all the above-mentioned provisions.
In addition to that, there is more to our admissions management system.
We offer you - an integrated lead management system. It is the most crucial module by MasterSoft, which we would advise you to opt for - can reach out to potential students by running campaigns across several platforms such as Facebook, LinkedIn, Twitter, Instagram, or via email, SMS.
Capture the Authentic Leads
When a prospective student enquires, it captures the lead and then rates it, based on the number of times the student may have visited the site or time spent on your website.
You thus have an authentic pool of leads.
The lead management system can then guide the best, most motivated candidates to your institution. Enrollments are bound to pick up rapidly with our highly sophisticated lead and admissions management ERP.
The lead management software is also a pro at maintaining and nourishing captured leads so that they do not leak, age, or are not lost to your institution.
When leads are obtained manually, the possibility of multiple inquiries coming from the same source cannot be ruled out. Also, leads that are not given due attention, owing to staff burn-out or inadequate workforce, could age and disappear.
Our education ERP integrated with lead management software can counter this issue effectively, since it constantly sends gentle reminders, in the form of engaging video content, testimonials of alumni, emails, etc. to keep the leads interested and nudge them into applying to your institution.
Ready to speed up the online admission process for your institution?
Get in touch with us today for a FREE virtual demo of the Online Admission Software!
Email: janki.somani@iitms.co.in
Mobile: 8448010216