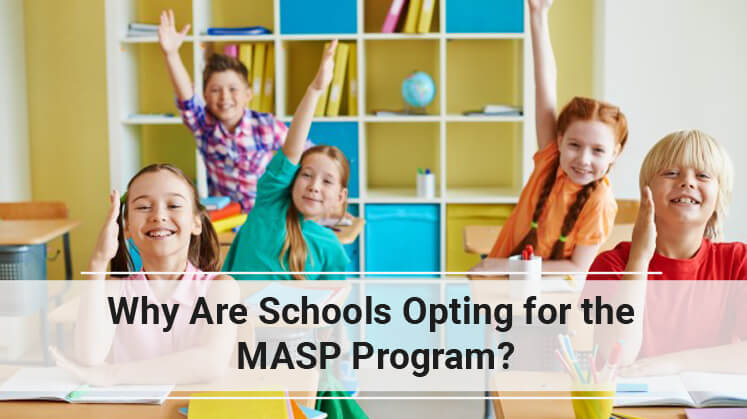 Even if you don't know what MASP is, I am sure you've heard this term from someone. Perhaps you've got mail or stumbled across news on the internet while searching for "Transforming Indian schools''.
You must be wondering why schools in India are opting for the MASP program, what it is, and a lot many queries! No matter what reason has pulled you to this article, if modernizing the educational campus is your aim & you want to understand every nook & cranny about Microsoft Aspire School Program (MASP), you've got to the right place!
First, let's begin with exploring what MASP is…
Microsoft Aspire School Program or MASP is an avant-garde approach by the tech-giant Microsoft towards digitization of school campuses via cutting-edge edTech tools.

The main aim of this program is to create a positive teaching-learning environment & boost student progress.

By adopting MASP, K12 faculty & educators can redefine the education parameters by enhancing the classroom experience & preparing future-ready kids.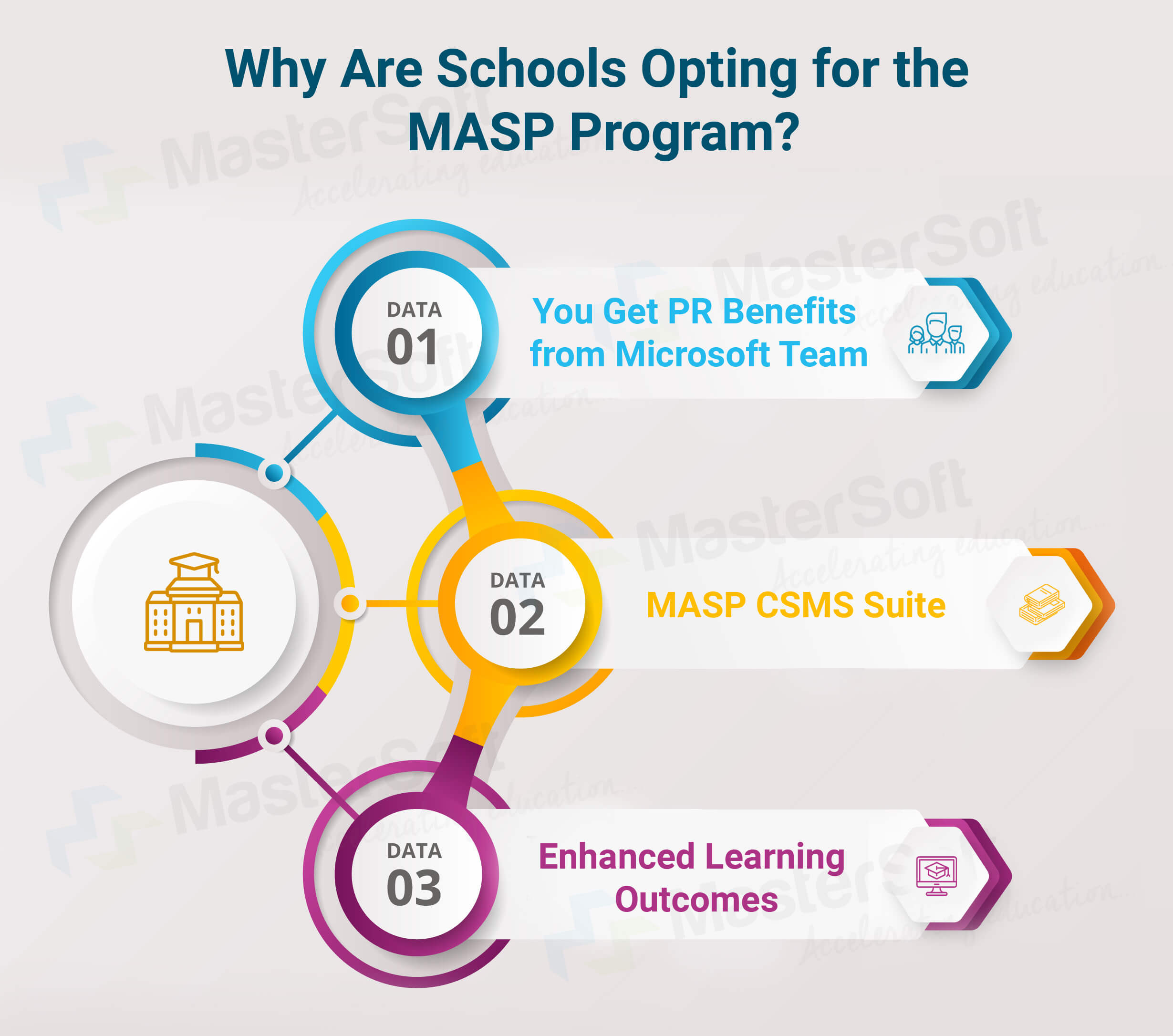 "Okay. So, it will automate the campus. That's fine, but there are plenty of edTech tools in the market! How will a school get benefited by MASP? What are the prime benefits it has to offer?"
So, I got this query from an educator while I was explaining to him the same. And I am mentioning it over here because you might also have the same concern!
Your concern is absolutely legit.
I am going to tell you the prime benefits of becoming a MASP school in simple words & it would depict why the MASP program is different from the rest & why it has grabbed the attention of K12 educators…
1) You Get PR Benefits from Microsoft Team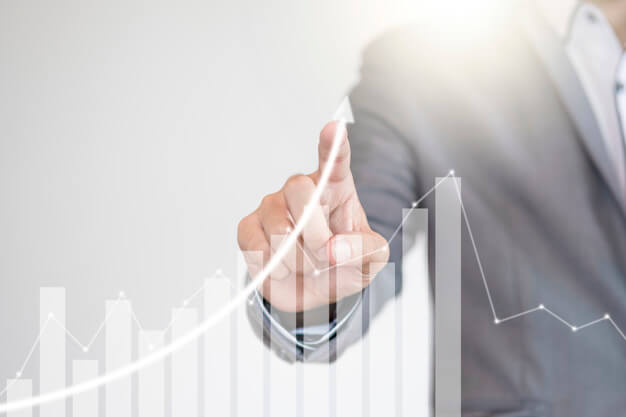 You may be providing top-class education facilities to students & have hired the best staff. However, parents out there won't trust your services based on your opinion or the regular marketing you do. You will need something very solid to back your words & brand.
Microsoft can create that "trust factor" by helping you enhance your brand image with quality services & relentless assistance. Here are the PR benefits that Microsoft offers -
Your school gets access to marketing PR & Assets
You get the recognition of Microsoft Aspire School
Gain your school's name & logo listing on official Microsoft Education website
Such kind of support from the Microsoft team can help influence prospects and easily convince them of your institutional strengths over the other schools or competitors.
2) MASP CSMS Suite
Next on the list of benefits is MASP CSMS suite, an ERP system integrated with interactive e-learning tools that promotes experiential learning. Before I jump to the technical rewards of ERP, I want to mention the "professional" rewards it extends to the teachers & students. With ERP, the burden of faculty gets minimized substantially. And when faculty is happier with their job, they're more likely to pass on the happiness to students. It starts a chain of positive teaching-learning experiences. And e-learning tool is like the bonus point which enables children to learn at their own pace from anywhere & at any time. With the MASP-CSMS suite, you'll get -
Cloud-based, encrypted, highly secured ERP solution
Automation of entire Academic & Non- Academic Processes
Smart Mobile App Integration for multiplying teacher-student engagement
I can assure you that student retention won't be a problem ever!
3) Enhanced Learning Outcomes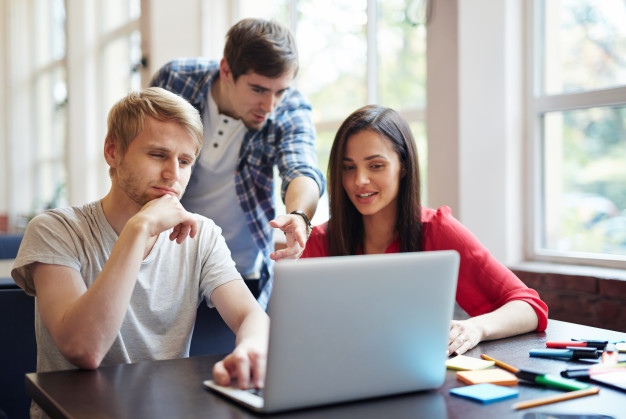 Enough of things said. Nothing would count if the final result is not satisfactory. The only thing which matters is student learning outcomes. That's exactly what MASP serves & perhaps it is the biggest reason why it has stood out from other programs & become the first choice of schools! MASP suite offers the following facilities to maximize the learning outcomes & teacher-student engagement.
Office 365: Access to Office 365 & Microsoft Imagine, Windows 10 upgrades at absolutely free of cost!
Minecraft: A gamified Platform for boosting creativity, innovatory approach & STEM learning in students.
Microsoft Intune: A tool that ensures complete data security & privacy of your institution.
Teaching-Learning Sessions: Online Teaching & learning sessions for teachers & students.
Get Started & Witness Phenomenal Success!
Now that you have a clear understanding of the potential that MASP holds, you must give it a try. You can discuss the program with your school's staff prior to taking the step. Then directly move to - Microsoft Aspire Program Apply option. We await your response! You're free to shoot your queries. We'll make sure to answer each of them!