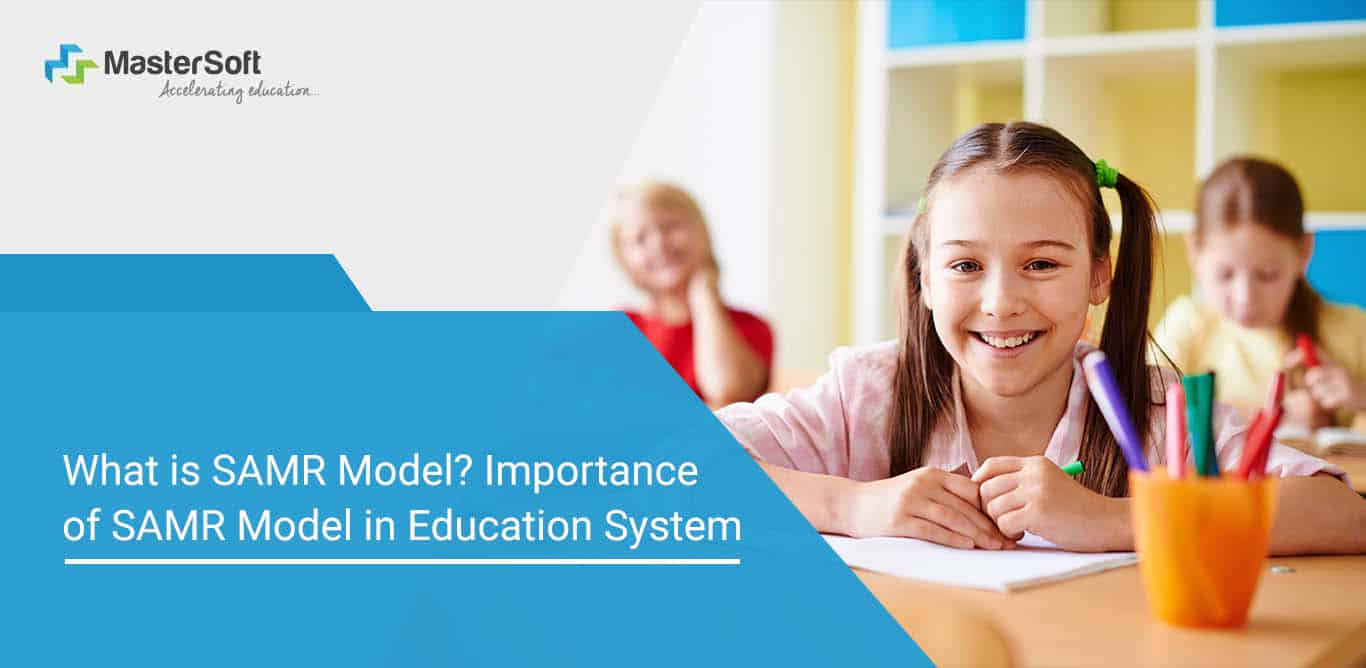 Institutes have been adopting the online learning module increasingly for the past two to three years. One of the biggest reasons for doing so is to cater to the educational needs of those who are looking to continue their studies remotely. On the other hand, the ongoing global health crisis also contributed immensely to schools and colleges opting for digital transformation.
Although the change or transformation was imperative, it was not necessarily easy to execute. For example, many students living in rural areas are not able to gain access to e-learning facilities due to network issues or lack of basic ICT devices. Hence, the digital divide has always posed difficulty for students belonging to different socio-economic backgrounds. Consequently, they lose out on benefiting from novel strategies such as the SAMR model.
But the biggest obstacle to online learning is the lack of knowledge regarding technology and how to integrate it into the teaching and learning methodologies. Students of today's generation are tech-savvy and know how to use hi-tech gadgets and applications. But it is hard for the faculty to navigate through any software and application if they are new to the learning management system platform. Therefore inadequate professional development and training are one of the main hurdles to using technology productively in the classroom.
What is the SAMR Model?
Technology has played a significant role in the evolution of education, especially in teaching delivery and learning methodologies. Therefore educators and experts continuously work together to develop strategies and solutions to enhance the educational structure. For instance, Dr Ruben Puentedura developed SAMR, which is a framework that indicates how technology contributes a certain degree of productivity to teaching and learning.
The framework categorizes four varied classroom technology integration, also referred to as the SAMR model of technology integration. According to the model, online learning can be laid out into four consecutive levels. Each of these levels corresponds directly to combining technology to enrich the educational process.
SAMR Model Stands For:
S - Substitution
A - Augmentation
M - Modification
R - Redefinition
SAMR Model is a framework for teachers to evaluate how they integrate technology into their teaching. SAMR Model explained into four stages:
Substitution
The traditional approach that teachers use in the classroom includes activities that make use of materials easily available in the school itself. For example, during the class, they provide in-class lectures or paper worksheets correlated to the chapter or subject taught. As per the SAMR model, the learning material can be changed into digital, thereby increasing its effectiveness.
The function of the material remains the same in terms of providing the necessary source of knowledge, and the only change is that there is a direct tool substitute. Furthermore, the process is relatively simple, wherein the teachers can scan the worksheets and lessons, convert them into PDFs and post them online. Similarly, they can also post any important information related to class schedules, weekly assessment memos, classroom norms, etc., through any file-sharing services.
Sometimes institutes and teachers alike record classes or sessions online to share with the students later. Hence it is beneficial for students to get synchronous and asynchronous versions of lectures. On the other hand, keeping in line with personalised learning, teachers can also record instructional videos explaining varied topics to facilitate a better understanding for slow-paced students.
Augmentation
This section utilizes technology as a medium to directly enhance the student learning experience. Teachers use various tools and digital elements such as hyperlinks, comments, or multimedia to increase engagement. Students are no longer required to stick to the paper-and-pen method to take notes.
On the contrary, they can write on the word processor, whereas teachers can add pictures, videos and edit texts while teaching. Likewise, students can also create digital portfolios that will enable them to give presentations using multimedia. Consequently, this will provide an opportunity for them to demonstrate their understanding of a particular subject matter.
At the same time, teachers can make use of applications to transform the old questions and answers sessions. They can include games in the form of quizzes that will help to engage the learners. They can also create virtual bulletin boards where students can post questions, links or suggestions.
Since all students do not have the same level of confidence, some would prefer to ask questions one to one. So this is where chat boxes and discussion boards come into use where learners can ask questions anonymously.
These two SAMR model examples signify how technology can help to increase the effectiveness and productivity within the online learning spectrum.
Modification
At this stage, technology is no longer a mere medium of making certain improvements; rather, it is used to create a comprehensive transformation in the education delivery process. Institutes and faculty work together to bring about considerable changes in the classroom. They do not use traditional methods anymore; instead, they opt for cutting edge digital tools and software.
The tools and applications help them to carry out crucial academic tasks such as grading, preparing lesson plans, creating a scholastic and co-scholastic events calendar. It also helps to open up more varied ways of communication that works alongside the online classes. Therefore it helps to create an engaging environment and encouraging students to participate.
Students benefit from having an option to express their thoughts and pose questions in an online forum or email threads.
Redefinition
In this stage, the teachers can make the best use of the facilities they acquire after integrating SAMR model technology. For instance, teachers can use communication and information technology to create an interactive class. As a part of a particular learning class, they can conduct virtual field trips or invite an expert to speak about a particular subject in one of the sessions.
Also, this is the perfect time to enhance the students' skills by providing them with the chance to voice their thoughts. Faculty can encourage them to write blogs and think pieces about several social problems that they see happening around them.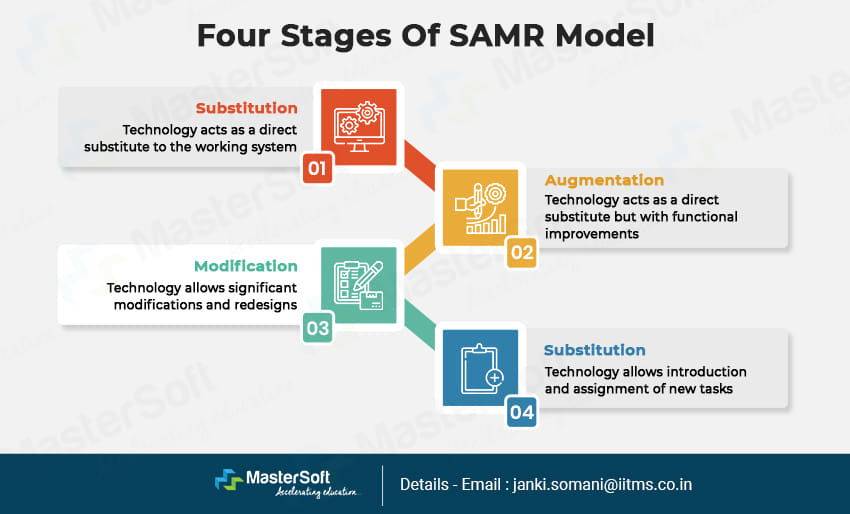 What is the Importance of the SAMR model in the Education System?
It is extremely vital to understand that the SAMR model is designed not to diminish the role of the teacher as an active mediator. Instead, they play the role of a facilitator who focuses on using the model as a planning tool to implement better learning activities in the class. It is equally significant to remember that technology must be utilized in such a way that it has a positive impact on the class.
SAMR gives helpful insight about including technology to ensure collaboration amongst students. Thereby, it helps to increase engagement and maintains inter-connectivity amongst peers and staff.
The fastest, easiest, and most reliable educational ERP system to meet the needs of your institution. Connect with our experts for a gap analysis.
Mobile: 08448010216
Email: janki.somani@iitms.co.in