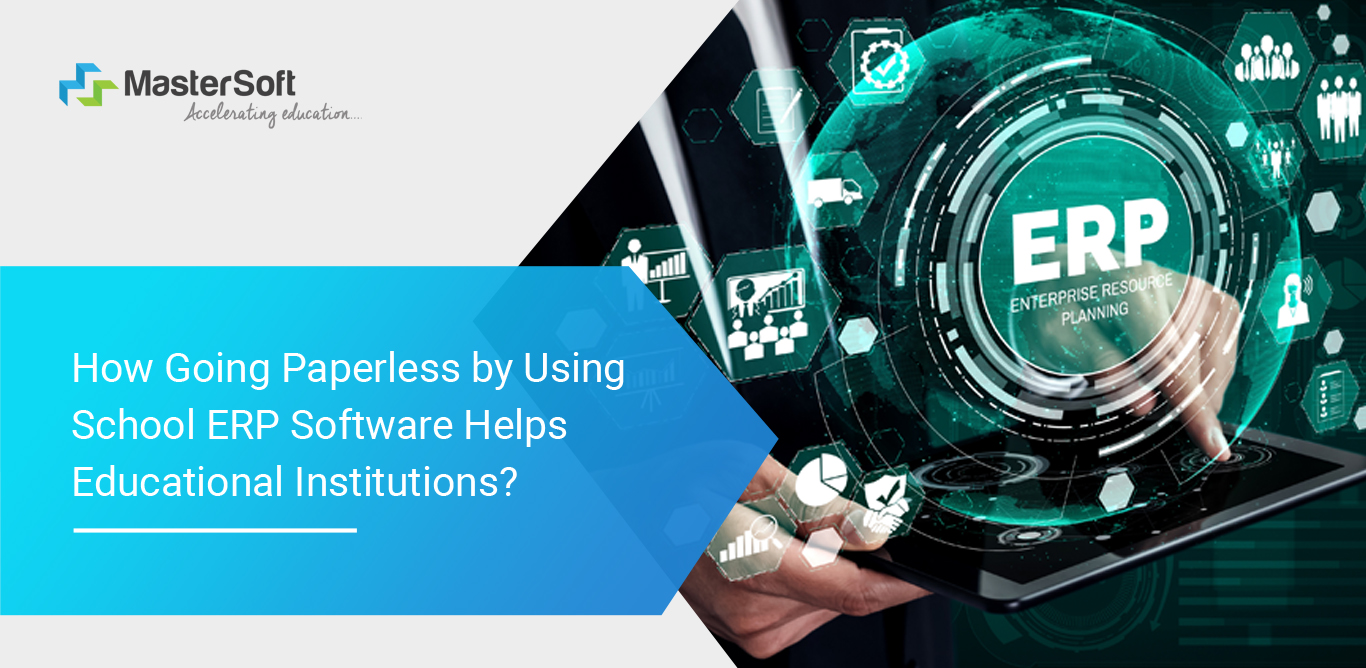 As a faculty, imagine getting a deadline to submit a student-related report to the school administrator, for which you need to go through a lot of student data.
The information is written or printed format on paper; bundles of paper stacked on top of each other, followed by hardcover files. Examining each file one by one carefully to find the specific information that you want, how long could that take?
An hour?
Two hours?
What about the deadline before which you have to submit the report?
All of these questions are bound to keep appearing. To be honest, in a school, such kinds of problems are not new. All staff in the school offices, as well as the teachers, are well aware of this problem. Only if there was something that could save them all from dealing with this problem.
Well, there most certainly is, by implementing ERP you can upgrade your system to do the day-to-day activities without the use of paper.
Different sectors of industries are increasingly invested in availing new technologies to best serve their purposes and interests. To reach out to their target audience and sustain a relationship with them, the education industry did not stay behind in the race. Many schools and institutes have been using school management software for carrying out a variety of tasks. Whereas many schools use the school ERP software for the same reason.
ERP solutions enable the faculty to do everything online, making it an efficient paperless procedure. Wondering what are the other advantages that the ERP school software provides to the educational institutes by going paperless?
Let us have a look.
1) Well-organized Administrative Processes
Be it financial or administrative aspects of schools, generating, collecting, and maintaining data is essential, inaccurate recording of information can cause major inconsistencies. If someone were to list out the primary tasks that fall under the administrative specter operating, that would include, online admission data, school fees records, student grades records, hostel management, payroll services, education contracts, processing research grants, and other operating expenditures.
To calculate all of these for audit purposes on paper is an extremely challenging task, on top of that maintaining it in a safe environment is a real hassle. Education ERP is an appropriate software that takes care of the administrative processes without any procedural delays. With the implementation of efficient school software, all of the tasks mentioned above are done in a well-organized manner without having to think about any uncertain risks or liabilities.
2) Catering to the Students Needs
The traditional way of imparting education has taken a backseat because institutes have started to integrate smart school ERP. Due to which the students can get to opt for online learning, traditional textbooks can be replaced with relevant & vast e-content available at just a click of a mouse, delivering a real classroom experience from the comfort of their house or anywhere else. Moving towards the goal of providing a learning experience that is paperless and uniquely interactive.
3) 100% Data Security Assurance
How many times have you heard of important documents stolen from the staff room or the teacher's lockers? There are times when question papers of examinations are leaked, or physical student data is also either altered, changed, or destroyed because there is a lack of proper restriction to physical paper documents. Student management software which comes as an added advantage with the cloud based ERP campus protects the valuable information and data online with unmatched efficiency.
Be it providing role-based access to the particular staff of the department or making changes to the data as per the requirement, all of the operational activities are recorded making it hard for unauthorized personnel to try to hack or breach the security of the school management system.
4) Error-free Student Database Management
Despite being careful and precise, it has been found that certain administrative procedures which are carried out on paper often falters due to miscalculations or miscommunications. The ERP solution makes sure to execute all the calculations and organizing of the statistical data without any errors and mistakes.
5) AI-Powered Dashboards for Accurate Insights
School ERP software comes with AI-powered dashboards that automatically generate accurate reports based on the data collected. The data after being collected can be analyzed as per the requirements, based on which the segments are to be divided. At the end of the procedure, the data helps to give productive insights based on which actions could be taken.
6) Eco-friendly Approach Towards Work
We all are aware of the importance of preserving nature and protecting the environment. What better way to do that, than by not wasting paper. When the educational institutes use the smart school ERP, it not just maximizes the efficiency of institutional operations & daily tasks but also partly helps save the environment.
To Sum Up
By going paperless through school ERP software, educational institutes are opting for an efficient, robust, and productivity-enhancing operating system. With so many advantages & provisions, the software for schools can help you generate a successful work ecosystem in the long run by boosting the ROI.
For more details on educational ERP software for schools, get in touch with our team of ERP experts today!